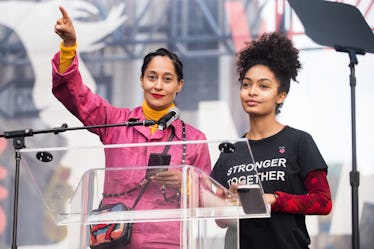 The Women's March Is Returning To A City Near You This Year
Emma McIntyre/Getty Images Entertainment/Getty Images
A day after President Donald Trump was inaugurated, millions of people attended the 2017 Women's March, which featured tens of different marches that took place across dozens of cities both domestically and internationally. On Sunday, Jan. 21, an exact year after the inaugural march was held, the second annual Women's March will happen once again. The question of exactly where the Women's March 2018 will be held is not a straightforward one, though.
The answer is two-fold.
First, the main site of the Women's March will be Las Vegas, Nevada, which is a change from 2017's main site, Washington D.C. The theme of this year's movement is "Power to the Polls," a message which highlights the Women's March's aim to take its large gatherings and rally people around political causes that shape elections.
"Women's March has created a powerful movement that has ignited thousands of activists and new leaders," Tamika D. Mallory, co-president of Women's March, said in a press release announcing the theme of this year's march. "In 2018, we must turn our work into action ahead of the midterms. This new initiative will address voter registration and voter suppression head on. We marched for justice in D.C., we created our plan in Detroit and now we're bringing the power of the polls to Nevada."
The release also notes how the site of the march has risen in importance over the past 12 months, particularly because of the deadly mass shooting that took place in Las Vegas last October and the fact that Nevada will be a battleground state in the 2018 midterm elections.
Scheduled speakers include politicians like Rep. John Lewis (D-GA) and Rep. Sheila Jackson Lee (D-TX).
The event in Las Vegas will mark the start of a national tour, which will see Women's March organizers travel around the country to increase voter registration in swing states.
"In addition to being willing to follow and support Black women, we all must commit to fighting the systemic voter suppression laws that inhibit so many of our communities from voting," Linda Sarsour, co-chair of the Women's March, said in the release. "This campaign will mobilize a new group of activists to create accessible power to our voting polls."
While the Women's March's main event will be held in Las Vegas, there are plans for dozens of similar demonstrations to be held at the same time in cities all over, including places outside the United States.
The Women's March's official site features a map that shows the locations in which other marches are scheduled to take place. The map features cites in Canada, Mexico, and Colombia. These marches are taking place on Saturday and Sunday.
Some of the demonstrations are slated to be held by organizations that are related to — but not directly affiliated with — Women's March. One of those unaffiliated organizations is March On, which says "hundreds" of its own affiliates and groups will be holding demonstrations across 47 states.
Like Women's March, March On says it will devote focus to igniting electoral victories.
"March organizations and communities in almost every state are coming together to mark the anniversary of the January 2017 Women's Marches as we continue turning that moment into a movement in 2018," March On Executive Director Vanessa Wruble said in a release. "Women are powering the momentum we need to impact politics and elections this year and beyond. With this #WeekendOfWomen, March On will launch our 'March On The Polls 2018' election program, which kicks-off with Operation Marching Orders, our project to use cutting edge civic engagement technology to crowdsource our agenda.
The bottomline? No matter where you are, chances are there will be a demonstration celebrating the anniversary of the 2017 Women's March near you.