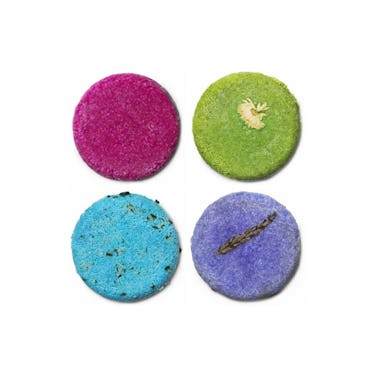 Lush's New Shampoo Bars Smell Amazing, Last 80 Washes, & Are Entirely Ocean-Friendly
Next time you're in the shower and you use up a bottle of shampoo or conditioner, take a second to think about where that plastic bottle might end up. Then think about how many other billions of people are throwing away such plastic bottles. Lush shampoo bars are a much-needed solution to the world's plethora of plastic packaging, so here's where to score the brand's savvy new environment-saver.
Lush is mostly known for their novelty-shaped bath bombs but the brand is also making a name for itself in being outspoken about helping the environment. The Lush turtle bath bomb was sold to raise awareness about cleaning up the oceans and protecting marine life, and it was as adorable as it was important. Now the brand is promoting its shampoo and conditioner bars which have actually been in their repertoire for some time already, but have never been more relevant.
Each shampoo and conditioner bar claims to last for approximately 80 washes, or about three bottles of the same products. They're made from all-natural ingredients and come in a rainbow of colors. The best part, though, is that there is zero plastic packaging.
As shown in the video from Lush's Instagram, the shampoo bars are used almost like a bar of soap. Simply rub the bar between your hands and then onto wet hair to lather up! The brand released a facebook video further demonstrating the useful product, and made a point about packaging.
This doesn't have to be in a bottle in order to serve a purpose. There can be naked alternatives to literally anything and everything in your shower."
I must admit that plastic is definitely a convenient product, but it's now doing more harm than good. Lush is doing their part to educate the public that over 552 million shampoo bottles are thrown away annually, that plastic packaging accounts for over 80 percent of trash found on beaches, and that there are about 300,000 tons of plastic trash floating in the oceans around the world.
These shampoo and conditioner bars "completely eliminate the need for plastic packaging." A representative for Lush said in a video clip,
It is so important for the beauty industry to be eco-conscious because there is already a huge carbon footprint from the world of cosmetics. We're hoping to continue to spark those conversations so that these things become more and more in high demand all across the cosmetics industry at large
The less plastic packaging, the better.
One shampoo bar does not fit all. Just because you swap out your bottled products, doesn't mean you'll have to give up your variety of haircare options.
The juniper-scented bar is recommended for oily hair.
If you suffer from a dry scalp, this bar is packed with cade oil to moisturize your roots.
This blue beauty will supplement your current volumizing shampoo.
I'm particularly intrigued by this smoothing shampoo. It promises to tame thick hair and it has a fresh, citrus scent.
This one bar can replace both your shampoo and conditioner bottles. It's made with avocado oil and cocoa butter to really infuse your hair with natural moisture.
Lush has separate conditioner bars though, too! This one has all kinds of fruity oils in it to give your hair a healthy shine.
There's a volumizing conditioner to help give you the ever sought-after beach waves.
Even brassy, blonde hair has a friend in these package-free products.
You can also get a metal tin that will fit most of the shampoo bars to make for easy traveling.
Everyone can do something small to help reduce plastic waste, and these packaging-free products are a great place to start. The turtles will thank you.