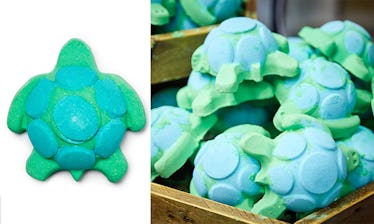 Lush Took Me To Clean Up The Ocean & I'll Never Look At My Trash The Same Way Again
Courtesy of Lush
I'm a California girl through and through. I was born with a natural beach wave in my hair, I wear sun dresses all year round, and I feel most at peace in water. And just like a true Southern Californian, I know which beaches to go to and which to stay far away from. For instance, you'll never catch me swimming at Santa Monica beach — it's murky, dirty, and on any given day, you'll find all kinds of trash floating in the water or washing up on the shore. But it took this Lush turtle bath bomb to get me to think about our oceans in a whole new way.
I've experienced the pollution problem first hand, only now am I realizing how unaware I've been all along. So, to face the problem head on (and come face to face with my own wasteful habits), I spent the day on a paddleboard with Lush Cosmetics, armed with a net and a bucket, cleaning up our local marina. I still can't shake the images of Big Gulps lining every dock and crevice and my Starbucks runs have been completely different ever since.
Lush invited me out for a day of paddle boarding and cleaning up the ocean, so I met them bright and early on the docks. There, we were introduced to a few members of The Sea Change Agency, who hosts paddle boarding trips off the coast of L.A. to collect plastic and debris to save the turtles and other wildlife. This is just one of the grassroots organizations across the globe funded by Lush, that works tirelessly to reduce the amount of plastic that is in our waterways. Truthfully, I was just happy to be on the water — I didn't realize how much of an impact the day would actually have on me.
I knew this was the real deal when they limited us to a single latex glove — they're not about to make us fish for trash with our bare hands, but you can see in their faces how bothered they are knowing that these will eventually end up in a landfill. We paddle away from the boats, into open water, and get to work. They tell us to pick up everything, no piece of trash is too small. In fact, it's those small pieces that are actually most dangerous to fish in the area, because they eat them thinking it's food. Once I get myself situated in a corner of the marina (trash just naturally collects in these corners and along the boat docks), I get started. In the first 15 minutes, I pull out a plastic Big Gulp, a sheet of plastic wrap that had to have been at least 7-feet long, shards of styrofoam, and a few water bottles. I realize, any one of these could've been mine. I suddenly feel so responsible.
About an hour of collecting trash later, we meet up and sort through the trash. This is where things get really eye opening. We might've saved this small amount of trash from ending up in the bellies of fish, sea turles and other ocean creatures, but we haven't saved the planet. We sort through the trash and find that only a small amount can be recycled, the rest ends up in a landfill — some items for hundreds of years. It takes a soda can 200 years to decompose and a plastic bottle 450 years. Styrofoam cups take 50 years, while a plastic grocery bag takes 10 to 20. We collected all of these floating in the marina.
And to make matters worse, not even recycling is a solution. Who doesn't feel good when they take the time to sort their trash and fill their blue bin with recyclables? This must mean we're saving the planet, right? Honestly, you get an A for effort, but there's no guarantee your blue-bin's worth of paper and plastic will actually make it to the recycling plant. A member of The Sea Change Agency tells us that something like one in three recycling trucks are turned away from the recycling plant, because there's no space. All that recycling then goes to the landfill to die. And even if your items do end up in a recycling plant, recyclables will be discarded if contaminated with old food, drinks, or other waste, so be sure to rinse everything off before throwing it in the blue bins.
So, in a world where waste has completely taken over, the only way to protect our planet, the oceans and sea creatures, is limit the amount of trash we produce. Every year over 100 million sea creatures, including turtles, die due to plastic pollution found in our waterways, including items like plastic straws and styrofoam cups. I've been to Starbucks three times this week and each time I made it a point to be less wasteful. The first time I refused a lid and drank directly from the cup. The next two times, I remembered to bring my reusable cup. And just like that, I saved two cups, three lids, and three straws from ending back up in the ocean, and it wasn't some radical change, I barely even noticed it.
Being late to the Lush Cosmetics game, I didn't realize their efforts and how much they're significantly impacting the planet for the better. Their solid and "naked" products that take something like a shampoo or body wash that would usually come in liquid form and need to be packaged in a bottle aren't a gimmick — they limit waste, which ultimately saves the planet.
And their newest launch for World Oceans Day is just as adorable as it is important. The Turtle Jelly Bomb is raising awareness on the importance of protecting our oceans and sea turtles. It's packed with fresh pine and smoky sandalwood, which smells incredible, and it also contains strings of agar seaweed that disperse in the tub as the bath bomb fizzes to symbolize plastic straws and other bits of ocean plastic that are harming sea turtles and other marine life. It will be available in shops and on lushusa.com this summer.
Saving the world can feel overwhelming, but it all starts with the small decisions we make. I'm vowing to say no to plastic utensils, straws, and cups. I've already swapped my shower essentials with Lush's "naked" products (no more plastic containers), and clean my recyclables before throwing them in the blue bins. Join me, will you?