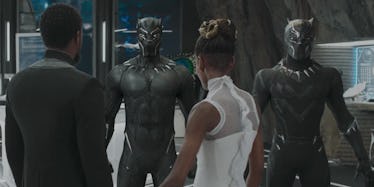 6 DIY 'Black Panther' Costumes That Look Like They're Straight From Wakanda
Marvel
When it comes to Halloween, the best costumes are the ones that look legit without looking store bought. This DIY can be a hard needle to thread for those not used to making their own cosplay outfits. But sometimes you just gotta go as characters from the hottest movies around, and that means a DIY tutorial or two to get the best costume there is. These DIY Black Panther costumes fit the bill in all ways. They're inexpensive but creative, and by the time you're done, people will think you flew to Wakanda to go shopping.
Black Panther also has the distinction of being one of the few gender-balanced superhero movies. Not only will these costumes be popular because the film is still fresh, there are also costumes enough for both him and her without anyone having to dress as a character with no spoken lines.
For this DIY list, I've rounded up not only T'Challa and Shuri, but Okoye, M'Baku, Nakia, and Killmonger. If your squad has more, all are jumping off points for creating further costumes until there so many, you might as well enter the party chanting "Yibambe," because you're about to conquer. By the way, there are ways to wear these costumes without being culturally appropriative and without doing blackface, so keep these things in mind while getting your look together if you weren't aware already.
Check them out.