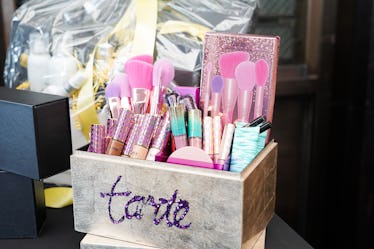 Tarte Is Giving You 25 Percent Off Almost EVERYTHING For Black Friday & Things Are Already Sold Out
Presley Ann/Getty Images Entertainment/Getty Images
If you're a person who waits for Black Friday to shop for your (and your friends' and family's) favorite makeup products, then you're in luck. Tarte's Black Friday 2018 sale is pretty amazing and is bound to save you a ton of money on the brand's must-have items. The best part? You don't even have to wait until Friday morning to shop the cult-favorite brand, because their sale has already started.
On Wednesday morning, Tarte announced via Instagram that they will be offering a pre-Black Friday sale with 25 percent off on almost everything on their website, including new arrivals. And according to the brand, this 25 percent off deal is actually going from now until Sunday, Nov. 25. All you have to do is add your favorite Tarte products, like their Cosmic Maracuja Balm, Shape Tape Foundation, and Shape Tape Eyeshadow Palette, to your cart and plug in the code "VIP25" at checkout to receive your discount.
Before you start going bananas adding things to your cart, just keep in mind that the only exclusions to this Black Friday deal are the Shape Tape Contour Concealer, the Shape Tape Contour Concealer & Mini Sponge Set, and their large vault sets.
Then, come Cyber Monday, the party continues — and it gets even bigger. The brand will begin its Cyber Beauty Blowout, which will only last for 24 hours. During this blowout sale, you can expect to receive 60 percent off some of your favorite Tarte products. This 24-hour sale promises sweet, sweet deals like mascaras for just $10 and blushes for $20. Again, just keep in mind that, like the Black Friday sale, the cult-favorite Shape Tape Contour Concealer and large vault sets are excluded from the sale. Don't let that get you down though, because there are so many more savings to be had.
Tarte's Black Friday and Cyber Monday come after a string of exciting discounts the brand has already offered this year, like the Tarte Custom Kit Sale, the Tarte Birthday Sale, the Shape Tape Concealer Sale, and the Friends & Family Sale, just to name a few. Speaking of major discounts, according to Global Cosmetic Industry Magazine, Tarte is expected to be one of Black Friday and Cyber Monday's hottest-selling cosmetics brand this year. Given the deals on some of the brand's best-selling products last Black Friday/Cyber Monday, it's easy to see why. Some of the discounts included the Tarte Lights, Camera, Lashes Mascara, which was on sale for $10 (regular $23); the Tarte Buried Treasure Eyeshadow Palette, which was on sale for $20 (regular $36); and the Tarte Beyond BB Perfecting Liquid Foundation, which was on sale for $25 (regular $48).
In addition to the exclusive deals being offered on Tarte's website, you can also snag the brand's mascaras for cheap during Ulta's Black Friday Sale, beginning on Thanksgiving day, as well as the Tarte Girl Boss Goodies Skin & Makeup Mini Set for $15 (in addition to other discounts being offered by the brand) at Sephora on Black Friday.
My biggest piece of advice this Thanksgiving? I would go ahead and take advantage of this Black Friday sale as soon as possible, as some of buys are already selling out at alarming rates. While I may not be of much help in the kitchen, I can rest easy and enjoy my pumpkin pie in peace knowing I've helped some of the Tartelettes out there score deals on their fave cosmetics before they sell out.