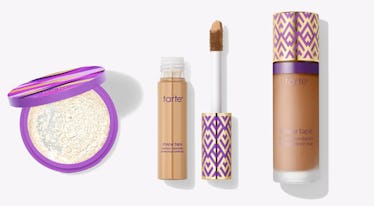 Tarte's Shape Tape Concealer Is 25 Percent Off For One Day Only So Hurry Up & Shop Before It's Gone
If you've been waiting for a sign to go online shopping, this is it. After putting off splurging on one of my go-to concealers for months, the Tarte Shape Tape Sale 2018 is the ideal opportunity for me (and for you!) to stock up on your shade, as well as any additional shades you'll need for fall and winter if, like me, you're prepping to hit peak pale in the next few months due to lack of sun. If you want to indulge in this deal, though, you'd better act fast — this sale lasts just until the end of today, Oct. 9.
"I didn't hear about a sale," you might be thinking to yourself, and that's OK, because I've gathered up all the deets to give you a quick run-down on the whole sitch. Tarte Cosmetics is turning 18, and to celebrate this momentous occasion, they've decided to grace us with a sale on one of their iconic products, the Shape Tape Contour Concealer ($27, tartecosmetics.com), as well as a sale on the entire Shape Tape product family. Tarte took to their Instagram account to post arguably the best news I've seen on my feed in a while: All day long on Oct. 9, you can snag Shape Tape Concealer and all the other products in the Shape Tape line for a whopping 25 percent off.
I know it's Tarte's birthday, but I feel like I'm the one getting the gift? This is such a great deal? For real, I can't wait to shop the site:
To get the 25 percent off, all you have to do is enter code "SHAPEUP" at checkout, and you're good to go. It couldn't be easier! And while I know my cart will likely be filled with various concealer shades, chances are, I'll use this opportunity to pick up some of the other Shape Tape family products, too.
To create the perfect base for a cut crease eye look that I'll no doubt be using Shape Tape Concealer to carve out, I plan to pick up the Shape Tape 12-Hour Eye Primer Stick ($21, tartecosmetics.com) which boasts a waterproof, crease-proof vegan formula. It also contains shea butter to hydrate, so you won't suffer from that whole dry, crepey feel as a result of adding an additional layer underneath your look.
Another Shape Tape product I've yet to try is the Shape Tape Setting Powder ($34, tartecosmetics.com). My sister actually swears by this stuff, so allow me to give it a second-hand five-star rating in her honor. The super-fine powder is designed to set makeup, blur imperfections, and control oil, so it seems like an all-in-one lifesaver, IMHO. The powder comes in two sheer shades, "Translucent" and "Translucent Tan-Deep," and promises no flashback, ever.
The final two products in the Shape Tape family are the foundations: the Shape Tape Matte Foundation ($39, tartecosmetics.com) and the Shape Tape Hydrating Foundation ($39, tartecosmetics.com). Only the latter of the two is listed as a best-seller on the site, but I've tried both formulas and quite liked each for different reasons. The Matte Foundation was long-lasting without looking cakey or dry over time, and the Hydrating Foundation gave me a more luminous finish that still didn't end up looking too oily on my combination skin. Both formulas come in 25 shades, all of which are in stock at the moment.
If you want to see the full Shape Tape fam in action, Tarte posted this Instagram video showing just how effective these heavy-duty formulas truly are from a coverage standpoint:
Are you convinced? If so, you might as well stock up on some new brushes and sponges during the sale, so you've got something with which to properly blend all your new makeup. The Shaper Sponge ($18, tartecosmetics.com) and the Paddle To Perfection Brush ($28, tartecosmetics.com) are among some of the tools offered during the sale that work particularly well with the liquid Shape Tape formulas.
This baby includes the 3-piece Little Detailers Paddle Brush Set, one Shape Tape Eye Primer, and the Shape Your Money Maker Eye & Cheek Palette, which contains six eyeshadow shades, one blush, and one highlighter.
This is the palette, so yes, I'll be buying this during the sale, too:
And with that I'll leave you, since like I said, the sale is only for today, so there's really no time to waste. Head on over to Tarte's website now and make the most of that 25 percent off discount while you still can!