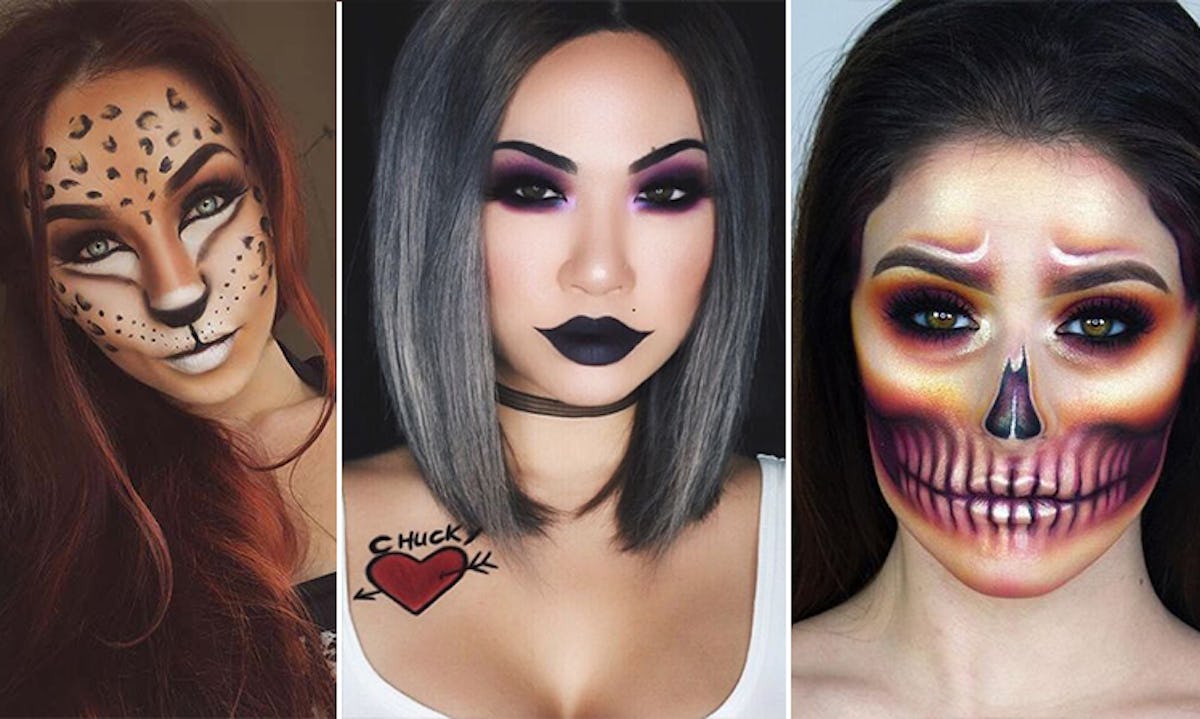 6 Halloween Looks With Just Eyeshadow, So You Can Finally Use Every Color In The Palette
Pinterest
OK, I'm going to need you to be really honest for a second: How many half-empty eyeshadow palettes do you have in your vanity full of colors that never get used? Too many to count? Same! I buy so many full-sized palettes because there's a single color I love, but there are others go totally untouched. But rather than let those other shades go to waste, I put them all to use on Halloween. So, every October, I gather tons of inspiration for various Halloween looks with just eyeshadow that obviously look cool, but also help me finish all those extra shades.
I sifted through all the coolest Halloween makeup looks on Pinterest and found a ton that can be recreated using all those unused eyeshadows in your drawers. Here are some of my favorites:
Cleopatra
The Egyptian queen is known for her elaborate eyeshadow look, so it's only appropriate that I pay my respects to her first. To create the look, bust out your royal blue, turquoise, gold, and black eyeshadows and apply them in a dramatic wing shape. Use a dark brown shadow to fill in your brows with a high arch and an elongated tail. Finish the rest of your makeup with glowy foundation, a subtle contour, and a nude lip.
The costume: Finish off your Halloween costume with a Cleopatra-inspired wig, tons of gold jewelry, and a gold dress.
Wonder Woman
From one leading lady to another, Wonder Woman is the ultimate costume idea for feminists in 2019. And while the superhero had an arsenal of power-fueled accessories, you can draw yours on with gold eyeshadow and a black eyeshadow stick. Finish with a bright red lip and a star on your headband.
The costume: You can wear the full costume or go with jean shorts and a red tank for a modern take (and last-minute version) of the classic Wonder Woman outfit.
Mermaid
This look is all about those bright, poppy, metallic shades buried at the bottom of your vanity. To create mermaid scales, slip a fishnet stocking over your face and dust metallic blue, aqua, purple, and pink shadows over the mesh. Finish the rest of your look with a crisp cut crease on your eyes and a bold lip.
The costume: Gather your seashell and pearl accessories, a bright-colored wig, and a mermaid skirt, and you've got yourself a creation worthy of an under-the-sea celebration.
Skeleton
What I love about this skeleton costume is it's totally up for interpretation. Choose any eyeshadow colors you like and use them to create hallowed eyes, cheeks, and a full set of teeth.
The costume: You can basically wear whatever you want: Wear a dress or pants, wear a wig, don't wear a wig. It's totally up to you.
Leopard
It's time to break out all those neutral shadows in your collection. Use a warm brown to create a contour and a light tan to make your feline-inspired features pop. Break out a black eyeshadow stick to draw on the crescent-shaped spots and finish with a cat-like nose and mouth.
The costume: Leopard print is actually really in right now, so break out your best pieces and pair them together for a head-to-toe look.
Bride Of Chucky
I mean, Chucky's bride wishes she looked this glam. Give yourself a purple smoky eye and use a black eyeshadow to darken your brows and finish with a black lipstick. Don't forget to use a black eyeshadow stick to draw a faux heart tattoo on your chest and fill in the heart with a red eyeshadow.
The costume: Throw on a white dress and a leather jacket and you're ready to get out there and wreak havoc with your groom.