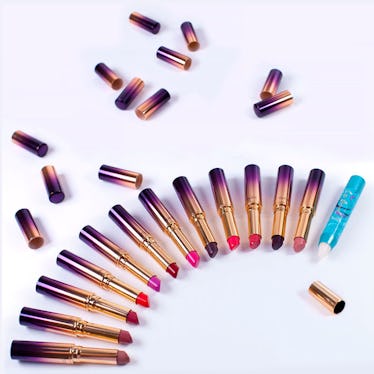 Tarte Cosmetics' Birthday Sale Includes Deals Worth Partying About—But You Have To Hurry!
Tarte Cosmetics
Turning 18 is a big deal. It's when you legally become an adult, can buy lottery tickets, and can vote. Exciting, right? A certain beauty brand is turning the big 1-8 and to celebrate they're giving their customers the gift of major discounts on their products. Tarte Cosmetics' birthday sale is the best party you'll ever get invited to thanks to the incredible treats you'll get to walk away with for cheap. Remember those little goodie bags friends would give you as you left their party? This is better. Way better.
Yesterday, Tarte announced a 24-hour sale on its Shape Tape concealer, which has become a cult-favorite among bloggers, makeup artists, and basically everyone ever. (It's light and breathable but provides incredible coverage—it's magic.) The deal kicked off the week-long sale that Tarte is having in celebration of its 18 birthday, wherein the brand will be offering a new range of products at seriously reduced products each day. Every 24 hours new sale offerings will come into play and the old ones will expire, so if you see something you like you'd better hop on it before it's gone.
Today's offerings are even better than yesterday's, which set the bar high. You'll be able to get a generous array of hydrating lipsticks, eyeshadow palettes, brush sets, limited-edition sets, and more at up to 70 percent off—they're basically giving products away! Now's the perfect time to start shopping for stocking stuffers and holiday gifts for friends. And while you're at it, definitely treat yourself.
Here are a few of my favorite picks to shop from the sale:
Lip Service
This three-in-one lip tint is the perfect pigment for your pout in easily applicable form. It boasts the coverage of a lipstick, the creaminess of a gloss, and the moisture of a balm. Oh, and it finishes off with the perfect matte touch. It's literally perfect for fall.
Magic Stick
I've been using this cheek stain in "Tipsy" since what feels like forever simply because it leaves my cheeks glowy and rosy and it smells amazing. Seriously, this stuff blends into skin so smoothly it's unreal and it's perfect to take with you on the go.
Lid Star
Boasting eight autumnal eyeshadow hues in both matte and metallic finishes, this palette is a one-stop shop for the perfect daytime and nighttime makeup looks alike. Swipe some "Shine On" around the inner corners of your eyes for an uber subtle shine and add "Werk" into the mix as the night progresses.
Give Me A Ring
This is basically your secret weapon when it comes to correcting discolorations and contouring and brightening your skin. The orange shade counteracts darkness, green neutralizes redness, yellow highlights and brightens, the peachy tones camouflage, and the warm tone helps to sculpt, contour, and define. The palette is small enough to keep with you at all times and ensure your skin is looking fresh AF.
This lipstick is the absolute perfect berry shade for fall. And on top of that, it also boasts a moisture-rich and creamy formula plus long wear coverage.