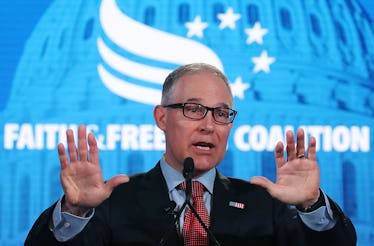 Scott Pruitt, Trump's Scandal-Plagued EPA Chief, Has Resigned & It's About Time
Mark Wilson/Getty Images News/Getty Images
Another Trump-appointed government official bites the dust. This time, it is Scott Pruitt, the administrator of the Environmental Protection Agency, whom Donald Trump confirmed shortly after winning the 2016 election. On July 5, Scott Pruitt resigned as Trump's EPA chief, and the President tweeted that he has accepted the resignation.
Scott Pruitt seemed like an odd choice for EPA administrator from the start, but Donald Trump has consistently defended the selection. Pruitt came into the position as one of the of EPA's most vocal critics, notably describing himself as a "climate skeptic" and actively halting previously established efforts that the agency had set up to combat climate change, according to CNN. When he was still president-elect, Trump specifically praised Pruitt for his intent to reverse the EPA's "anti-energy agenda" in his confirmation speech, USA Today reported back in December 2016, foreshadowing Pruitt's moves to refocus America's reliance on fossil fuels in the name of job creation.
Aside from his clear ideological differences with the Environmental Protection Agency, Scott Pruitt has also been known for his constant scandals while in office. Multiple members of Congress from both sides of the party line have called for Pruitt's resignation since he took office, citing a variety of ethics controversies ranging from misuse of government funds to special favors for family members. Over the past few days, Pruitt has been getting even more negative attention, after one of his former aides accused the administrator of keeping a secret calendar to hide his more controversial meetings, per CNN.
On Thursday afternoon, Donald Trump tweeted out the news that he had accepted Scott Pruitt's resignation as administrator of the Environmental Protection Agency, leaving him with one last bit of praise by saying that Pruitt had done "an outstanding job" with the EPA.
In his tweets, Donald Trump revealed that the Senate has confirmed Scott Pruitt's EPA deputy administrator, Andrew Wheeler, to take over the role of EPA administrator beginning on Monday, July 9. Wheeler is a former coal lobbyist, and as his old job may suggest, he has been shown to share Pruitt's drive to undo Obama-era environmental regulations. The New York Times pointed out that while Pruitt was a Washington D.C. outsider who served as Oklahoma's Attorney General before being confirmed by Trump, Wheeler is expected to differ a bit from Pruitt in that he has long been considered a Washington insider and should be much better at effectively navigating laws in his new position.
Scott Pruitt's resignation marks the latest in an ever-growing list of officials who have publicly resigned or been fired from their roles in the Trump administration. People who have left the administration under various circumstances since Trump became president include officials like former chief of staff Reince Priebus, former strategist and counselor Steve Bannon, former deputy assistant Sebastian Gorka, former communications director Omarosa Manigault-Newman, former secretary of state Rex Tillerson, former press secretary Sean Spicer, former press secretary Anthony Scaramucci, former attorney general Sally Yates, and former FBI director James Comey. And that is only a partial list; ABC News has compiled a more complete list of officials who have left the Trump administration in the year and a half that he has been in office.
With Scott Pruitt officially out of office, there will now hopefully be a better working environment within the Environmental Protection Agency and the agency's relationship with Congress to make better advances for the environment. Although Pruitt is no longer the EPA administrator, a spokesman for the EPA's Office of Inspector General told CNN that all ongoing and pending investigations into Pruitt's use of the office and his team will continue. That means the more than a dozen investigations still up for review into Pruitt's controversies will not go away even though he has stepped down.