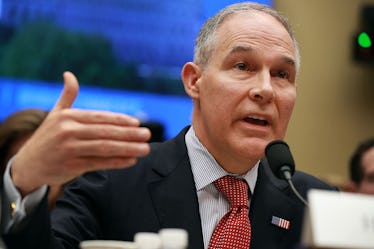 This Trump Environment Official Is Getting Grilled For How He's Using Taxpayer Money
Chip Somodevilla/Getty Images News/Getty Images
The Environmental Protection Agency (EPA) is a decades-old agency that is supposed to work to ensure a cleaner, healthier environment for Americans. President Donald Trump appointed Scott Pruitt to head the agency in February 2017 to much criticism from environmental activists. That criticism has now come to a head, with Pruitt's fitness for the job more in question than ever due to questions over what Pruitt has spent money on. The EPA administrator is facing two congressional committees this week to discuss his spending habits, which are an ethical point of concern.
On Thursday, April 26, Pruitt testified with the House Energy and Commerce Committee and then later with the House Appropriations Committee. It got off to a contentious start, according to CNN, with Democrats taking Pruitt to task for allegedly spending extravagantly on security and travel, building a $43,000 soundproof booth in his office, approving raises for staffers, and even more. (Pruitt claimed on Thursday that he didn't authorize the $43,000 soundproof phone booth, though. When it comes to the raises, Pruitt's chief of staff, Ryan Jackson, said in a statement to The Atlantic, "Administrator Pruitt had zero knowledge of the amount of the raises, nor the process by which they transpired.")
"There are so many outstanding questions that we need truthful answers to today, because so far, we've only gotten half-truths, misleading answers, our outright falsehoods," said Rep. Frank Pallone, the top Democrat on the committee, in his opening statement, per CNN.
"I have nothing to hide," Pruitt said in his opening remarks, per The New York Times. "Facts are facts and fiction is fiction. And a lie doesn't become truth just because it appears on the front page of the newspaper."
The congressional committees are looking at a handful of questionable payments. For instance, in September 2017, The Washington Post broke news that Pruitt's luxurious travel was allegedly costing American taxpayers thousands. "When the administrator travels, he takes commercial flights," EPA spokeswoman Liz Bowman told the Post in September on behalf of Pruitt, and explained that the luxe flights in question were marginal cases.
Rep. Anna Eshoo pressed Pruitt very hard on those travel expenses in one of the more tense exchanges on Thursday. Eshoo totaled Pruitt's travel expenses since his appointment at more than $200,000 of alleged taxpayer dollars.
More recently, Pruitt was criticized about a December 2017 trip to Morocco, which was only made public afterward via press release. During Pruitt's visit, he outlined U.S. environmental priorities for "updating the Environmental Work Plan under the U.S.-Morocco Free Trade Agreement and the potential benefit of liquified natural gas (LNG) imports on Morocco's economy," according to the press release. The Post reported that the Morocco trip was the most costly of his trips within a seven-month period, at about $17,000 for the four-day venture. After mounting pressure, Pruitt released calendars of his trips — including the Morocco one — but most of the documents were heavily redacted, per ABC News.
Then, there was the reports of questionable circumstances of an apparent apartment lease agreement between Pruitt and a health care lobbyist, per published reports. The agreement became increasingly of interest, as it raised suspicions that Pruitt could have been influenced in some way. At the time of the Morocco trip, the only U.S. company that exported liquid natural gas was represented by the same Washington lobbyist who arranged the apartment lease agreement with Pruitt. The company, Cheniere, and the lobbyist, Steven Hart, both told ABC News they did not ask Pruitt to promote the exports in Morocco.
The EPA's inspector general is reportedly examining Pruitt's travel records in a probe of whether the agency followed the proper procedure, per the Post. In response to the looming controversy surrounding Pruitt, and ahead of Thursday's Congressional testimony, White House Press Secretary Sarah Huckabee Sanders fielded questions from reporters about possible disciplinary action or firing.
"Again, we're evaluating these concerns, and we expect the EPA Administrator to answer for them, and we'll keep you posted," Sanders said on Wednesday, April 25.
Before being tapped for the EPA position, Pruitt, a Republican, served as the Attorney General for Oklahoma, per the EPA website. "Administrator Pruitt believes that promoting and protecting a strong and healthy environment is among the lifeblood priorities of the government, and that EPA is vital to that mission," his biography says. But an archived web page from his time in Oklahoma flies directly in the face of those values, because he then described himself as the "leading advocate against the EPA's activist agenda." (That description is also still written on his personal LinkedIn profile.)
There's no better contradiction than the whole self-described anti-EPA but also head-of-the-EPA thing to paint a picture of the Pruitt controversy and his track record on environmental progress, which is precisely why Pruitt's nomination by Trump raised so many eyebrows last year. The choice "enraged green activists" and "cheered the oil industry," per Reuters. But once Pruitt settled into the job, he became embroiled in more and more controversies.
The Congressional testimony, which has turned into something of a Comedy Central Roast of Scott Pruitt — at least, among Democrats — is streaming live online in multiple places. Americans have to wait and see if Pruitt is next in line to be fired or resign, but it's not looking great.