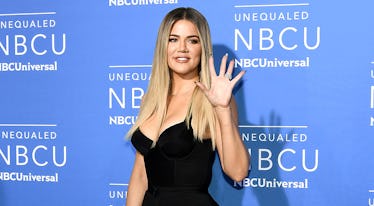 Khloé Kardashian Just Announced Her Daughter's Birth In The Sweetest Way
Dia Dipasupil/Getty Images
A whirlwind week for Khloé Kardashian continued on Thursday, April 12, with the birth of her first child. Kardashian's baby girl, fathered by basketball star Tristan Thompson, was born in the early hours of Thursday morning at a hospital in the Cleveland area, according to TMZ. Not long after, Khloe Kardashian's birth announcement marked the special moment for the public, in her own words — and, the announcement included a special surprise: The name of her newborn baby girl.
In a post on Instagram, Kardashian said,
Our little girl, True Thompson, has completely stolen our hearts and we are overwhelmed with LOVE. Such a blessing to welcome this angel into the family! Mommy and Daddy loooooove you True!
The birth of Kardashian's daughter comes over a year and a half after the reality star began dating Thompson in September 2016, when the pair was introduced to each other by another NBA player, Brandon Jennings. A year later, rumors began swirling that Kardashian and Thompson might be expecting. Months later, in a December 2017 Instagram post, Kardashian personally confirmed the pregnancy with a maternity photo.
You can see Kardasian's Instagram post announcing her baby's name right here:
"My greatest dream realized! We are having a baby! I had been waiting and wondering but God had a plan all along," Kardashian wrote in the caption for the photo announcing that she was pregnant last winter. "He knew what He was doing. I simply had to trust in Him and be patient. I still at times can't believe that our love created life!"
Commenting on the photo, Tristan Thompson wrote in response, "My love, Thank you for allowing be to be apart of your journey and entering your life that day at the bel air hotel. One of the best moments in my life. I'm soo happy to be on this journey together with you and creating this angel from the man above. Everyday I give thanks to him for bring us together."
During a January 2018 appearance on Jimmy Kimmel Live, Kardashian revealed she intended to give birth in Cleveland, where the 27-year-old Thompson — an NBA veteran of seven years — plays alongside LeBron James.
On Thursday, TMZ reported that Thompson was present for the birth of his daughter, as were Khloé's older sisters, Kourtney and Kim, alongside mom Kris Jenner. Prior to the child's delivery, there had been doubts about whether Thompson would be there to witness the birth.
Those doubts stemmed from bombshell reports that broke just days before, with media stories alleging the NBA star cheated on Khloé Kardashian. Elite Daily reached out to Kardashian and Thompson's teams regarding the reports but did not hear back. On Tuesday, April 10, the Daily Mail published a video that purports to show Thompson kissing another women days earlier at a Manhattan night club. The Cavaliers visited New York to play against the Knicks at Madison Square Garden on Monday, April 9.
Hours after the Daily Mail published its video, TMZ published its own report alleging infidelity on the part of Thompson. The report includes a video that purports to show the basketball star cheating on Kardashian with multiple women at a lounge in the Washington D.C. area. The video was recorded in October 2017, when Kardashian was three-months pregnant.
On Wednesday, April 11, E! News reported on Kardashian's reaction to reports of Thompson's alleged cheating. "Her entire world has been turned upside down," E! quoted a source as saying. She cried hysterically all night. She begged to come back to L.A. and tried to find any way to make it work but her doctor wouldn't let her. She just wants to be with her family and leave as soon as possible. Kris [Jenner] is there and completely supporting her."
A day later, Kardashian and Thompson's daughter was born.