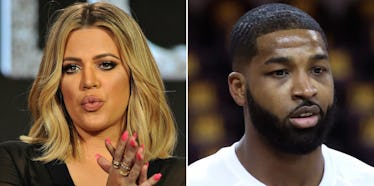 Khloé K Is Reportedly Letting Tristan Thompson Play A Big Role In Her Baby's Birth
Jerod Harris/Ronald Martinez/Getty Images
The internet's collective heart is breaking for Khloé Kardashian after reports of Tristan Thompson's infidelity during her pregnancy have surfaced. The Daily Mail released a video on Tuesday, April 10, that they claim showed Thompson kissing another woman at a club in NYC the previous weekend. TMZ subsequently released a video of Thompson with two women in a hookah bar, reportedly from October of 2017. Kardashian is reportedly "distraught" over the reports, but she's supposed to give birth any day now, so will Tristan Thompson be with Khloé Kardashian in the delivery room when their daughter is born? According to TMZ, Kardashian has decided to let Thompson be part of the delivery. Elite Daily reached out to Kardashian and Thompson's teams for comment on this report, but did not hear back by the time of publication.
People close to Khloé Kardashian might have revealed how the soon-to-be mother is coping with the reports of Tristan Thompson's cheating (Kardashian has yet to give a response herself). "She's distraught," a source told E! News, continuing,
Her entire world has been turned upside down. She cried hysterically all night. She begged to come back to L.A. and tried to find any way to make it work but her doctor wouldn't let her. She just wants to be with her family and leave as soon as possible. Kris is there and completely supporting her.
Her reaction to the reports has apparently not changed the fact that Thompson will be in the delivery room, however. And the reason makes sense. A source told TMZ that Kardashian, who reportedly started having contractions on April 11, has decided it's important for Thompson to be in the delivery room because she knows a baby's bond with their parents can be established right then and there. And though TMZ says while she reportedly doesn't want to speak to Thompson and her family is allegedly urging her to end their relationship, Kardashian doesn't want to let her feelings toward Thompson affect his relationship with their daughter.
While some may say he doesn't deserve to be in the room when the baby's born because he cheated while Kardashian was pregnant, Kardashian is clearly choosing to put her child's needs before her own, which makes her decision understandable. TMZ notes that it's not yet known if Thompson is going to choose to be in the delivery room himself, or if Kardashian will change her mind should any new reports come to light.
Kardashian's reported response to Thompson cheating rumors is so heartbreaking. A source told E! News, "Khloé moved her life to Cleveland for Tristan and made sure he was a priority so something like this wouldn't happen."
They added,
She feels defeated and betrayed. Kris has been there to help calm her. They are all really worried, and all of the sisters are dropping everything to be with her. They all keep reassuring her that everything will be OK and to stay calm for the baby.
Kris Jenner is reportedly in Cleveland with Kardashian right now. Thompson and Kardashian have been living together in Cleveland for several weeks now ever since she decided to give birth there. Living in the same house amid all of these reports is making things hella complicated, I'm sure. The source noted that the family is doing what they can to keep the two separated until it's time for Kardashian to give birth. "At this point in time, Khloé doesn't want to speak with Tristan," the source said. "And the family is keeping them apart until she goes into labor."
TMZ reported on Wednesday, April 11, that Kardashian reportedly started having "early contractions." Elite Daily reached out to Kardashian's team for confirmation but did not hear back by the time of publication. Kim Kardashian and other family members are reportedly set to arrive in Cleveland on Thursday and Friday. Kardashian's due date is reportedly near the end of April, but there's no real way of knowing if these cheating reports caused Kardashian to go into labor early.