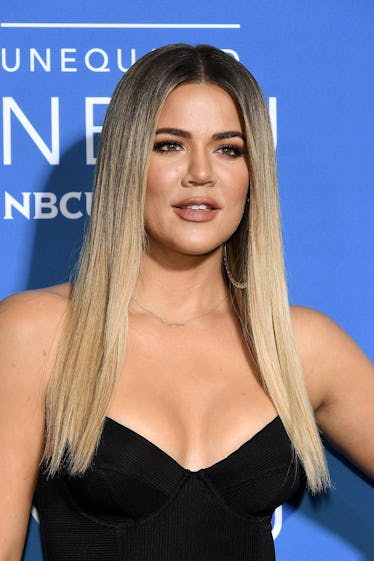 Khloé Kardashian Is Reportedly Having Contractions, So Her Baby Could Be Here Any Minute
Dia Dipasupil/Getty Images Entertainment/Getty Images
Oh my God, today might be the day. According to TMZ, Khloé Kardashian may be in labor in Cleveland, Ohio. Sources claim the reality TV star is having early contractions, and many of her family members are already on a plane flying to her side. The news comes smack dab in the middle of cheating rumors circulating Kardashian's boyfriend, Tristan Thompson, making this day a particularly eventful day to have a baby. Remember everyone, JUST BREATHE.
According to TMZ, Kardashian is experiencing "early contractions." Elite Daily reached out to Kardashian's team for confirmation but did not hear back by the time of publication. The baby is rumored to be due at the end of April, which means if the baby is coming today, she's early. Kris Jenner allegedly flew to Cleveland on Wednesday, April 11, and Khloé's sister Kim and other family members and friends are headed her way by the end of the week. The report claims they are going there to support her through labor obviously (if that's what's going on), but also to stand beside her during the cheating allegations against Thompson.
We know Kardashian settled in her Cleveland home a few weeks ago as her due date grew closer. As recently as April 3, Kardashian shared a message on her app about how she's been passing time waiting for the baby to arrive. She wrote,
Throughout my pregnancy, I traveled back and forth between L.A. and Cleveland quite a bit, but after a while, it was a little difficult. It was more tiring and my body got swollen, which never used to happen before pregnancy. I obviously love both cities, but I will say I'm happy to be in Cleveland right now.
She added,
...I'm with Tristan and I get my home time — cooking, being with my love, and just more of a routine. In L.A., I'm SWAMPED with work. But then again, I love being in L.A. because I get to see my sisters and my mom, and I have my trainer and the people that I've grown up with. So there are perks to both cities for me!
While she mentioned Thompson was there with her, fans know he left for NYC for a game with the Cleveland Cavaliers that weekend.
The Daily Mail reports Thompson was getting cozy with an unidentified woman in NYC on a rooftop bar the weekend of April 8, and even shared footage of someone who looks like it could be Thompson talking to a woman. The Daily Mail claims Thompson also kissed the woman in the video. According to The Daily Mail, the woman who filmed the interaction said,
I was there and he was on the table right next to us with a group of friends and some girl who he was obviously making out with all night. They were holding each other and it was so obvious. They were there when I got there and they were part of a big group of friends.
According to the eyewitness, everyone "knew" it was him.
They were talking and being around each other all night. He was texting and talking on the phone and she was obviously looking over his shoulder. Everybody knew who he was. We talked about it and everybody watched them make out several times.
Kardashian has yet to comment, but that could be because she is about to go into labor with her first child. NOT A BIG DEAL. Thompson has also not commented on the report.
If it's true that Khloé is in labor, GOOD LUCK, GIRL. You've totally got this.
Check out the entire Gen Why series and other videos on Facebook and the Bustle app across Apple TV, Roku, and Amazon Fire TV.