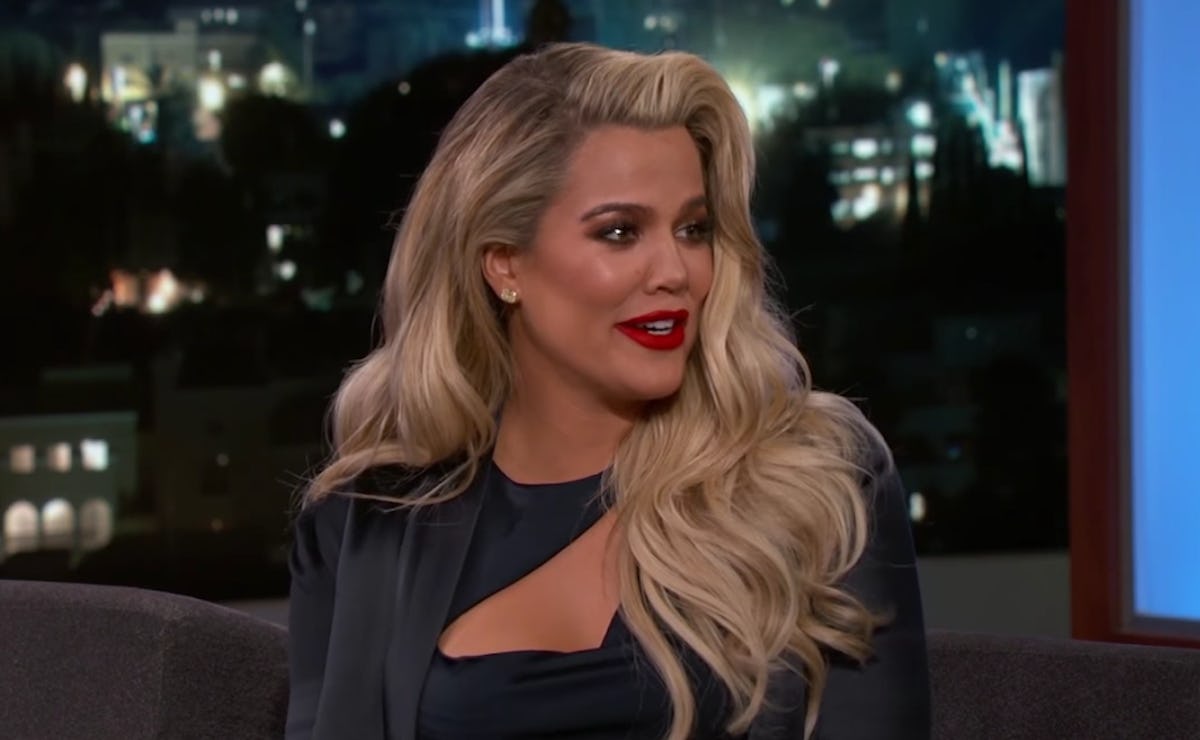 Khloé Kardashian Reveals The Details Of Where She'll Give Birth & We're So Excited
I think I'm having more fun during Khloé Kardashian's pregnancy than anyone else. Our girl is glowing. She's ethereal. She's the miracle of life. Her hair looks better at six months pregnant than mine does six minutes after a professional blowout. The middle Kardashian sister recently revealed lots of awesome details about her pregnancy, and we finally know where Khloé Kardashian will give birth. Sorry, Los Angeles. There's a new city in town. Or something...
You guys get it.
ANYWAY. As you know, Kardashian is expecting her first child with boyfriend Tristan Thompson. Thompson is a professional basketball player for the Cleveland Cavaliers, and the two have been sharing a house in Ohio for quite some time. Cleveland has become a second home for Khloé, but for her baby, it will be the first.
Kardashian dropped by Jimmy Kimmel Live! to talk about everything baby. During her charming interview, she revealed fun details like what it was like when she found out she was pregnant, where she wants to give birth, and who she wants in the delivery room.
But first, she tackled the big questions. For example, how did she even acquire a pregnancy test without the whole world finding out? She told Kimmel, "I had my trusty assistant do it."
Oh, yeah. That checks out.
She also said Thompson actually suspected she was pregnant before she did. She told Kimmel,
He kept saying, 'You're pregnant.' And I was like, 'Be quiet. I'm not pregnant.' And he kept... just... I was nauseous, not feeling well, and then he had to leave the country and I took a pregnancy test. I was, like, screaming. It's so weird and surreal.
Now that the initial freakout is over, it seems like Kardashian is cool, calm, and prepared for this baby's arrival. She joked that sister Kourtney is mad at her because she wants to put a TV in the nursery to stay busy while breastfeeding. Apparently, Kourt is offering the most unsolicited advice. She added, "Just let me experience things."
Kardashian also revealed the KUWTK crew knew about the baby before her family did. This is because she had to prep them so they could be there when she dropped the big news. She said,
I've known the crew since 2007. We've had pretty much essentially the same crew, and they've been involved in so much of the best and worst of our lives. And, they keep quiet.
Using our context clues, we suspect the big reveal is teased at the end of this preview for upcoming episodes.
As for the delivery itself, Kardashian plans to give birth in Cleveland. Listen, Tristan. You better be there.
Kimmel brought up Thompson's tricky schedule as a professional athlete and asked Kardashian if she demanded he be there for the delivery. She responded, "I kind of assumed that was just known. You have to say that?" She continued, "Hell no. He has to be there."
As for the rest of the family, Kardashian just wants anyone in the room who will "annoy her the least." She was present for the birth of all of her nieces and nephews, and even saw Kris Jenner give birth to her sister Kylie. Now, Kylie Jenner is reportedly pregnant with her own baby. My, my, my, what a difference twenty years can make.
Catch Khloé's awesome interview in the video above, and be sure to tune in on Sunday, Jun. 7, to see if this is the week she drops the big news. Okurrrr!
Check out the entire Gen Why series and other videos on Facebook and the Bustle app across Apple TV, Roku, and Amazon Fire TV.