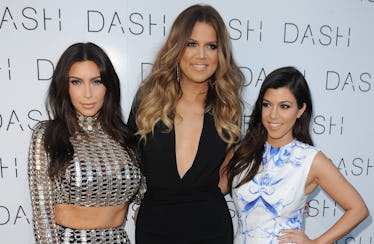 Kim & Kourtney K Are Doing The Sweetest Thing For Khloé During Her Pregnancy
The wait is finally over, fam. Khloé Kardashian finally announced her pregnancy on Dec. 20. Now that the cat's out of Khloé's bag, we're learning a lot of details about how the family has been doing since Kardashian first told them she was expecting her first child. Unsurprisingly, she's been getting a lot of help from her older sisters. Kim and Kourtney Kardashian's tips for Khloé's pregnancy have apparently been invaluable to the youngest Kardashian sister, as she calls them with just about every question that pops into her mind, according to E! News.
A source told the outlet, "Kourtney Kardashian and Kim Kardashian have been giving her a lot of pregnancy tips and Khloe calls them for every little question she has. She is really relying on her sisters through this pregnancy. Kourtney always shares her health tips." The source added, "The whole family is especially happy for Khloe's pregnancy, and thinks that this is going to be her best year yet. They all think she deserves it, and is in a really good place in her life." Kardashian confirmed her rumored pregnancy in an emotional Instagram post on Wednesday, Dec. 20. Her caption read,
My greatest dream realized! We are having a baby! I had been waiting and wondering but God had a plan all along. He knew what He was doing. I simply had to trust in Him and be patient. I still at times can't believe that our love created life! Tristan, thank you for loving me the way that you do! Thank you for treating me like a Queen! Thank you for making me feel beautiful at all stages! Tristan, most of all, Thank you for making me a MOMMY!!! You have made this experience even more magical than I could have envisioned! I will never forget how wonderful you've been to me during this time! Thank you for making me so happy my love! Thank you to everyone for the love and positive vibes! I know we've been keeping this quiet but we wanted to enjoy this between our family and close friends as long as we could privately. To enjoy our first precious moments just us ❤️ Thank you all for understanding. I am so thankful, excited, nervous, eager, overjoyed and scared all in one! But it's the best bundle of feelings I've ever felt in my life! ❤️❤️❤️
Following her announcement, she took to Twitter saying how relieved she was at all the positive feedback about her news.
She said, "I was so nervous to post our announcement but WOWWW I am overwhelmed with the response by you guys!!! Thank you! Thank you! <3 <3 <3 <3 I love you guys!!" She said in a tweet later that night, "I still can't believe it" with a pregnant woman emoji and a heart.
First, he liked Kardashian's post (obviously), and then he commented on the announcement saying,
My love, Thank you for allowing be to be apart of your journey and entering your life that day at the bel air hotel. One of the best moments in my life. I'm soo happy to be on this journey together with you and creating this angel from the man above. Everyday I give thanks to him for bring us together. I love you soo much and I know our little angel feels the love we share together and will know that mommy and daddy loves them unconditional forever and ever amen. Btw, shoutout the brodie @brandonjennings for bringing this King and Queen together. Love my G
The source told E! News everyone in the Kardashian/Jenner family loves Thompson and thinks the two are made for each other. According to the source, they're mostly excited that Kardashian is finally fulfilling her dream of becoming a mother. The source said, "Everyone in the family adores Tristan and says that this is finally 'Khloé's match made in heaven.'"
Although Kardashian did not reveal when she's due, if past reports are true (which we now know they at least partially are, thank the sweet lord), then she will likely give birth around March 2018. Woooo, more Kardashian babies!