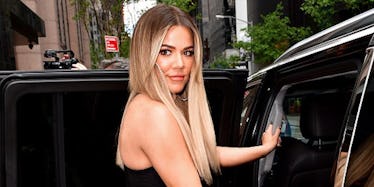 Is Khloé Kardashian Having A Boy Or Girl? This New Report May Have The Answer – UPDATE
Getty Images/James Devaney
Just when you think you're done with Kardashian news, something sucks you right back in. That something happens to be a huge piece of information — according to Us Weekly on Sept. 26, Khloé Kardashian is reportedly expecting her first child with Tristan Thompson.  At the moment, information on the reported pregnancy is limited, because as of now everything is just rumors. Therefore, we do not know details like if Khloé Kardashian is reportedly having a boy or a girl. Elite Daily reached out to Kardashian's teams for comment, but did not hear back at time of publication.
UPDATE 2: On the Season 14 of Keeping Up With The Kardashians on March 4, Khloé Kardashian confirmed she's expecting a baby girl with Tristan Thompson.
UPDATE 1: On Dec. 20, Khloe Kardashian confirmed that she is expecting a baby with Tristan Thompson in an Instagram post.
EARLIER: Here's what we do know. Thompson and Kardashian have been dating since September 2016 and seem extremely happy together, but let's start at the beginning of this love affair. The Keeping Up With The Kardashian star and power forward for the Cleveland Cavaliers actually met during a blind date set up by a mutual friend.
"Brandon Jennings, who's a basketball player — he's a friend of mine and Malika's — he was like, 'you're such a good girl, I want to introduce you to someone,'" Khloé explained on the 10th Anniversary Special. But Khloé wasn't super interested in doing a blind date, so instead Jennings "kind of ambushed the blind date," she said. He arranged a group dinner and had Thompson show up. It all worked out in the end.
"I had a bunch of people, so he brought him and we just connected," Kardashian said.
Definitely a big connection. These two have been going strong for over a year — and fans are here for it. However, that's not to say the two didn't have to overcome a couple of obstacles along the way.
Although they started dating in September of 2016, Khloé was not officially divorced from Lamar Odom until Dec. 9, 2016, according to E! News. The divorce was put on hold in 2015 when Odom overdosed in Nevada and proceeded after his recovery.
Odom revealed that Kardashian remained by his side until he regained consciousness. He said during an interview with Dr. Stork,
I didn't know until Khloé [Kardashian] had told me that I was in a coma. I couldn't even speak at the time. I couldn't talk. Nothing would come out when I would open my mouth, so I was scared.
Khloé is known for having a big heart — this loyalty to Odom comes at no surprise.
Thompson was also coming off a long-term relationship when he and Kardashian got together. Before Khloé, Thompson was in a relationship with model, Jordan Craig. Fun fact: She's cousins with comedian Kevin Hart's wife, Eniko Parrish. There are some good genes in that fam.
Craig and Thompson were so serious, they had a child together in December 2016. Thompson was already dating Kardashian when his son was born, but there doesn't seem to be any bad blood. Craig posted cute baby bump videos and never once shaded Thompson. One caption by Craig on Instagram was particularly adorable,
Although watching and feeling you grow everyday has made my pregnancy such an unforgettable, magical experience … words cannot express how anxious and excited I am to finally meet you! Mommy loves you so much. Muah-Muah-Muah!!!!
All of that is in the past, and seemingly hasn't affected Kardashian and Thompson's relationship. Kardashian even gushed to ES Magazine that she's "never been in this type of love before."
It was basically love at first sight; Kardashian explained that she and Thompson instantly connected.
We both felt this strong energy [when we first met]. I was like, oh this is such a nice, normal man — the normalcy is what I was craving. I'm a Christian; he's a believer in God and that's important to me. Tristan's morals and ethics are everything I've wanted and need in my life.
So glad they were able to find each other. Khloé added that she's never been with someone who put her safety and happiness before their own, like Thompson.
He accepts who I am. He likes to protect me, which I haven't had before — someone looking out for me almost before himself.
These two are an amazing pair. Whether the reported pregnancy news turns out to be true or false, I think Khloé and Tristan have a very bright future.
Check out the entire Gen Why series and other videos on Facebook and the Bustle app across Apple TV, Roku, and Amazon Fire TV.