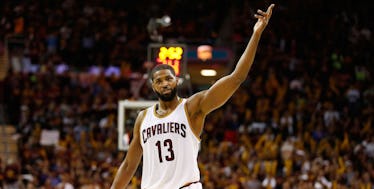 Here's Who Tristan Thompson Dated Before He Met Khloé Kardashian
Gregory Shamus/Getty Images
It's hard to believe there was life before the Kardashians.
Fans have been keeping up since 2007, and have watched as Kim, Kourtney and Khloé, developed multiple relationships, marriages, and now children. Anyone born after 1985 probably knows more about the famous family than themselves, including 26-year-old Tristan Thompson.
That lucky son of a...
The latest boo-thang to enter the group has been with Khloé, 33, for some time now. Which makes me wonder, what was that conversation with his friends like? "Hey guys. You know Khloé, right? Yeah, that Khloé. Well, turns out, I'm dating her."
Thompson is a NBA basketball player currently shooting hoops with the Cleveland Caveliers. This also adds him to the list of professional athletes Khloé has been linked to in the past.
Still, make no mistake. Thompson is a heartthrob in his own right. While he's only had one other serious girlfriend in the past, it's likely because he was busy building his career. Oh, and he's an infant. Let's never forget he was born after 1990.
Before Khloé, Thompson was in a serious relationship with model, Jordan Craig, who is also cousins with comedian Kevin Hart's wife, Eniko Parrish.
In fact, Thompson and Craig were so serious, they had a child together in December of 2016. While Thompson was already dating Kardashian by the time his son was born, a source told US Weekly, "Khloé's having fun with him right now and just doesn't want any drama."
Craig also posted videos and photos of her baby shower back in November. One video of Craig cradling her belly had the caption,
Although watching and feeling you grow everyday has made my pregnancy such an unforgettable, magical experience … words cannot express how anxious and excited I am to finally meet you! Mommy loves you so much. Muah-Muah-Muah!!!!
One thing is for sure, Thompson's son is going to fit right in with the Kardashian-kid gang. Why? Oh, because his name is Prince.
Saint, Reign, Prince... are you sensing a royalty pattern or nah?
For now, all's well that seems to end well between Craig and Thompson, and Khloé and Tristan are happier than ever.