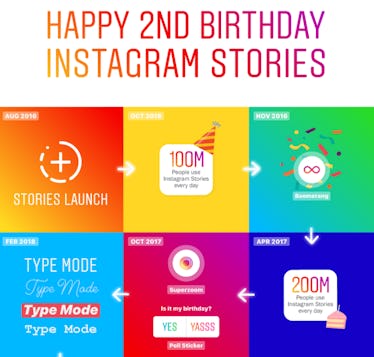 Celebrate Instagram Stories' 2nd Birthday By Using These 7 Features In Your Next Post
If you've had an Instagram account since the very beginning (I'm talking 2012 or before, people), take a second and think back on how much the app has evolved over the last few years. Not only has IG created a massive Discovery page to help users find interesting and specified content, but they've also gone through a number of interesting algorithms. Most importantly, Instagram added this feature you likely use on a regular basis: Instagram Stories. Since Instagram Stories is two years old now, there are some seriously cool Story features that you can use to celebrate today (and every day!).
According to an Instagram press release, Instagram Stories' second birthday is Thursday, Aug. 2, 2018, and it's kind of a big deal. Since it started way back in 2016, IG Stories have normalized the idea of "casual sharing" and "self-expression" for over 400 million IG users daily, per the release. That's wild! And in the past year, Instagram has done so much to let its users customize their Stories, whether it's with a GIF sticker, a location sticker, a song, cool font, Superzoom, or, of course, a poll sticker. So make sure you learn how to use every single one of them, and pick your favorite.