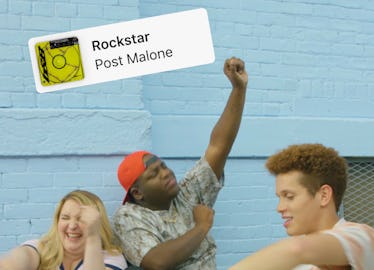 Adding Music To Your Instagram Story Is Simple & It'll Totally Up Your IG Game
Exciting news from Instagram usually means that you're about to spend so much more time on your phone, and the most recent announcement from your favorite app is no different. On Thursday, June 28, Instagram shared with its users that their Instagram Stories are about to get a total upgrade. You can now add a soundtrack to your Story, and it's a total game-changer. Here's how to add music to your Instagram Story so you can share your favorite tunes with all of your followers.
OK, this is seriously exciting, because how many times have you wished you could add some jams to your Story to make it that much better? Well, now you can choose from the growing library of songs on Instagram to totally up your Story game, per Instagram. It's so simple to get started, too.
First, you want to update your Instagram app to version 51 from the App Store or Google Play. Then, you should have a "Music" sticker available to choose when in you're in the IG camera. For both Android and iOS users, you can tap on the Music sticker after you've chosen the photo or video you want to add to your Story. iOS users also have the option to choose their music before they capture photo or video, but I'll get to more on that later.
First, I'll explain how the Music sticker works, so you can be well on your way to creating some lit AF Instagram Stories with all the hot summer tracks out right now. Seeing that Instagram Stories are now used by 400 million Instagrammers daily (!!!), you'll want to make sure your Story jams are on point.
Once your Instagram app is running on version 51, you can head to the camera in IG to get started. There are plenty of Story-worthy moments happening in the summer, so take a video of the waves rolling in on a picturesque beach, or snap a photo of you and your BFFs cheers-ing to the season with a glass of rosé. Once you've perfected your pics or vids, you can choose Music from the sticker tray (and start slaying the Story game).
When it comes to selecting a fitting jam for your Story, you can search a specific song or artist, or you can browse through the following helpful categories: Popular, Moods, and Genres. All of the songs are available directly through the IG app, so you don't have to waste time with connecting any other music apps. After you've selected your track, you can personalize it even further by choosing a specific part of the song that will play when your followers look at your Story. Fast-forward and rewind your way through the song until you land at the exact part of the song — like a super catchy chorus — you know will totally elevate your Story.
You can basically curate the musical accompaniment to your exact needs, so you know the end result will look and sound just the way you want it to. Once you've reached musical perfection, you can add the photo or video to your Story, and then your followers will hear the song you chose when they view it. You can also send it individually via Direct Message.
If your followers bopping along to your Stories are not great at "Name That Tune," they can check out the sticker that appears with song name and artist right there in your Story.
You'll also see the sticker with more info about the song when you watch your besties' IG music-filled Stories, so get ready to create an awesome IG-inspired playlists.
Now, if you use an iOS device to create these fun, new Stories, you can actually choose the music you want before you capture photo or video. This capability will be available for Android soon, but it's only on iOS as of the Thursday release. To use it, all you have to do is swipe to the new "Music" option under the record button in the IG camera. Follow the same steps as you would when you choose a song from the stickers, and then record your video with your chosen track playing in the background. This iOS-only feature also works with IG face filters, so the possibilities are endless.
This is Instagram's first-ever update that allows you to get creative by adding a soundtrack to your Stories, and it is available on iOS and Android in select countries as of Thursday, June 28.
Although this is the first time you can use IG songs to spice up your Stories, Instagram also released an update in May that allows you to share your favorite Spotify jams in your Instagram Story. While that feature is perfect for crowd-sourcing a hot summer playlist, you can't actually listen to the songs on IG.
That's not a problem anymore, because you can now use Instagram's latest updates to share all your favorite jams right there in your Stories. And with your expert musical choices, you should get ready to watch your Story views go way up.