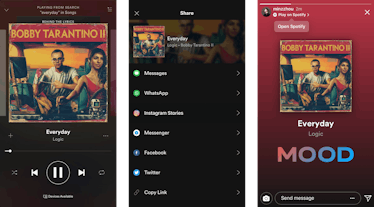 You Can Finally Share A Spotify Song To Your IG Story Without Taking A Screenshot
Another day, another new bit of Instagram news to share with you. It seems like Instagram has been on a roll releasing updates lately (like the emoji slider poll). This time around, the popular social media app has recruited another one of your favorite apps to get in on the fun. Instagram has apparently partnered up with Spotify to help you easily share all of your favorite music with your Instagram followers. Here's how to share Spotify songs to your Instagram Story.
Instagram announced the exciting music-sharing news in a release in the beginning of the month. As of May 1, you can now share whatever song you're listening to on Spotify directly to your Instagram Story. The process is super simple, too. You don't have to go through the steps of taking a screenshot of the song and uploading it to your Story.
First, make sure that both your Spotify and Instagram apps are updated to the latest versions. Then all you have to do is listen to your favorite tunes on Spotify and wait for that must-listen jam to pop up. When inspiration strikes and you just have to share a song, you can tap on the ellipses (...) found on the bottom right side of the screen, select "Share" from the menu, tap on "Instagram Stories," and then you can add whatever stickers or GIFs you want before posting it to your Story.
You're not only limited to sharing single tracks, either. According to Spotify, you can share "Spotify albums, tracks, artists, and playlists."
You don't even need to go through any processes of linking one app to the other to take advantage of this new feature that lets you share your Spotify songs to your Instagram Story. Just make sure you have both apps on your phone, and you're good to go.
Seriously, it's so easy to do that you might wind up sharing all of your playlists on your Instagram Story. Your followers probably won't mind it either, because you're not simply bragging about your sweet taste in music when you share your song selections to your Story. When your Instagram followers come across your Story with a shared song from Spotify, they can tap on the link that says "Play on Spotify" and start jamming right along to the same tune.
With summer pool days and cookouts right around the corner, this is the perfect time to peruse all the shared hits from Spotify Instagram Stories in order to bulk up your summer jam playlists. According to Spotify, the simple song-sharing feature should hopefully be coming to Facebook Stories in the near future.
It's super exciting that your Instagram Stories are about get more musical, and even better news is that one of Instagram's newest features can act as the perfect complement to your shared Spotify songs. Instagram recently released a new version of the Instagram poll sticker, and it's called the emoji slider poll sticker. This new emoji slider poll sticker allows you to ask more nuanced questions beyond the "either/or" format of the OG Instagram poll, and your followers will slide the emoji to the left or right until they land on where their opinion lies.
When you share your favorite tunes you can get a read on whether your besties on 'Gram are digging your jams or not. If you take your friends' opinions into account, you might even wind up curating a go-to Instagram Story where people know to look for the hottest songs.
As someone who has admittedly questionable taste in music, I am always on the lookout for anyone who seems to know what they're talking about when it comes to "cool" music. If your besties are always complimenting your musical tastes, update your Spotify app and start sharing all the hits on your Instagram Story. Your not-so-musically-inclined followers will definitely appreciate it.