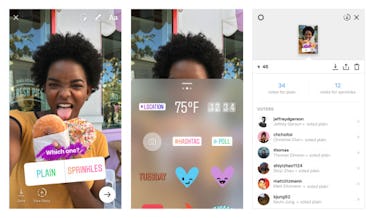 Instagram Polls Are Here So You Can Ask Your Friends For Help Making Decisions
Instagram users seem to resort to the app's Story feature whenever they want to share what they are doing... or to ask for advice when they need to make a decision. The latter can be really helpful while trying to decide where to have lunch or what new top to purchase, but it can be kind of tedious to weed through dozens of suggestions in your DM. Enter Instagram's newest Story feature: Poll Stickers. If you are wondering how to use Polls on Instagram Stories, I've got you covered.
Before we get into how the new feature works, make sure you visit your app store and check for any updates for your Instagram app. If there aren't any updates available, you can go onto the app and start using polls. If there is an update, make sure you download it. Once you have updated your app, you are ready to enjoy polling your followers.
Take your desired photo or video (make sure you are happy with it), then before you post, tap on the sticker widget and you should see a sticker that says "Poll" on the second line. Tap on the Poll sticker and ask your desired question, and the two answers your followers can choose from. Once your Poll is set up, place it where ever you'd prefer on your photo or video, and upload it to your story.
To see the results of your Poll, simply view your photo or video and slide up, as if you are trying to see who has viewed your story. That is where you'll see which option received the most votes and which of your followers voted for what option. So now, if you can't decide whether to order the Pumpkin Spice Latte or the Maple Pecan Latte at Starbucks, your followers can help you decide.
Like anything you post on your Instagram Story, your Poll will disappear after 24 hours. And Polls aren't the only new feature that Instagram Stories is debuting today. Those of you who get really creative while using IG Stories are going to love the new color picker and alignment tool on the app.
To find the new color picker feature, press on the pen widget (once you have taken your video or picture) and on the bottom left-hand corner, you will see a little dropper icon. Tap on the icon, and then use the dropper to pick your desired color from your media. Then, you can draw with that color.
You will find the new alignment tool once you have selected the text and or stickers you plan on adding to your Story. Like the photo above shows, the alignment tool will make sure you aren't placing your sticker somewhere your users can't see it.
The best part about these new IG Story features is that they're all available for both iOS and Android right now, so no one is left out. It seems like Instagram is trying to show Snapchat how it's really done, since some of Snap's recent updates have only been available for iOS and have left Android out of the equation.
And, I can't help but notice that these new IG Story updates come right after Snapchat debuted some new filters last week. Snapchat's new Sky Filters let users transform the skies around them into a beautiful sunset, a starry night, or a sky filled with rainbows. Just make sure you take your picture first, and the new filters will be located in your Filter Carousel.
Check out the entire Gen Why series and other videos on Facebook and the Bustle app across Apple TV, Roku, and Amazon Fire TV.