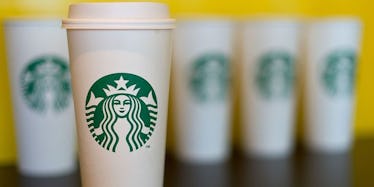 Starbucks' Pumpkin Spice Latte Is Officially Here, So Wake Up Early And Get One
Ben Pruchnie/ Getty Images
PSL fans, rejoice! The moment we've all been waiting for is here: Starbucks' Pumpkin Spice Latte is officially back. The coffee chain announced the glorious news through Facebook Live at 8 p.m. on Monday, Sept. 4, after live streaming four days of PSL-themed festivities. I know you're probably asking yourself, "OK, so when can I buy Starbucks' PSL?" Well, everyone's favorite #basic fall beverage will be ready to order beginning Tuesday, Sept. 5. Yep, it's the perfect cure for the post-Labor Day weekend blues.
There were kittens, puppies, celebrity guest bedtime story readings, gourds, guided meditations, aromatherapy sessions (seriously, they wanted us relaxed for the PSL), portrait paintings, and more. Everything led up to the Pumpkin Spice Latte's "hatch" on Monday night.
Needless to say, the PSL is excited to be back after (what feels like) a long AF hiatus.
A peek at the real Pumpkin Spice Latte's tweets (@TheRealPSL) from the week before the highly-anticipated announcement will tell you as much. In a series of all-caps tweets, he showed fans just how pumped he was for Starbucks' Facebook event. On Monday, Aug. 28, he wrote,
I CAN'T TELL YOU YES I CAN NO I CAN'T STARBUCKS FACEBOOK SEPTEMBER 1ST THAT'S ALL I CAN SAY AH!!!
He then followed up on Wednesday, Aug. 30, mounting the anticipation even more with this telling tweet:
STARBUCKS FACEBOOK. SEPTEMBER 1ST. I'M EXCITED POPCORN'S EXCITED GET EXCITED!!!
As such, anyone who tuned into Starbucks' epic Facebook live stream was able to watch the PSL's return in real time.
It also pretty much marked fall's beginning, because once you hop on the pumpkin train, it's impossible to get off. Cozy sweaters, chilly weather, and pumpkin spice everything are imminent.
So, go ahead: Pick up your first PSL of the year on Tuesday morning, my friends! Pair it with similar items like Pillsbury's Pumpkin Spice Rolls or Pumpkin Pie M&M's -- or, just bathe in it with a Pumpkin Spice bath bomb from Atlantic Fizz.
See you at Starbucks.