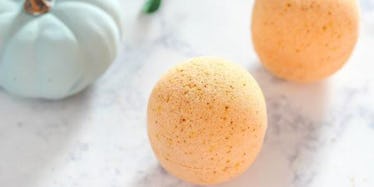 Pumpkin Spice Bath Bombs Are Real And Our #Basic Dreams Have Officially Come True
Atlantic Fizz
Pumpkin spice addicts, quick: Make room in your bath bomb collection for a PSL-inspired tub treat. Every #basic person needs to know where to buy pumpkin spice bath bombs. Ready for the answer? It's Atlantic Fizz, a New Jersey-based online retailer that specializes in "a hand-crafted bath time experience." I'm already sold.
Placing Your Order
Along with an entire catalog of products, the orange Pumpkin Spice Bath Bomb is available on Atlantic Fizz's website for just $4.
"Dive into fall with this iconic pumpkin spice scented bath bomb," the product's short and sweet description reads. It instantly makes me want to dive into a warm, PSL-scented bath, to be honest.
If you want a few day's worth of fall baths in August, Atlantic Fizz also carries a limited edition seasonal set with one Pumpkin Spice Bomb, one Cinnamon Bun Bath Bomb, and one Harvest Apple Bath Bomb for $10.
What's In Them?
Each spa-worthy product is handmade in New Jersey. Atlantic Fizz describes their process like this one their website:
When making our bath bombs, we start with the finest, food grade baking soda, add some citric acid, and a touch of sea salt to give that atlantic style kick. We were named after the Atlantic Ocean, after all.
The Atlantic Fizz Twitter account only has three tweets, which leads me to believe they're a new brand. If that's the case, they might not have tons of inventory — and you should probably place your order ASAP.
While you're at it, consider checking out more PSL products like Burt's Bees Pumpkin Spice Lip Balm or La Colombe's new Pumpkin Spice Draft Latte cans. Since we're a while away from fall IRL, pumpkin spice everything will have to tide us #basic people over until crisper weather actually arrives.
Until then, enjoy some PSL self-care, y'all.