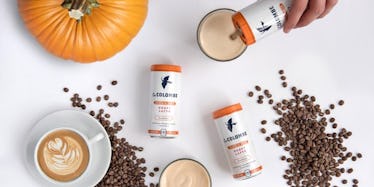 This Pumpkin Spice Draft Latte Comes In Cans So You Can Be Festive On The Go
La Colombe
There's no turning back now: PSL season is here, people. No matter which coffee chain you frequent for your pumpkin spice fix, you can finally have a draft version of the stuff at home, thanks to La Colombe. The popular coffee roaster -- which has 26 cafés across the U.S. -- is releasing limited edition draft latte cans this season. And trust me, after you see their joyous orange and white packaging, you'll want to know where to buy La Colombe's Pumpkin Spice Draft Latte.
So, Where Can You Get It?
Beginning Thursday, Aug. 24, the seasonal batch of cans will be available online exclusively until they make their in-store debut at select retailers sometime in mid-September.
How It's Made
La Colombe has a unique method of creating draft lattes that enables them to can the same foamy texture you'd normally find in a hot latte for their portable cold ones. The same process applies for their pumpkin purée- and spice-filled PSL made with Nizza cold-pressed espresso and, of course, milk. It features zero artificial sugars and substantially less sugar than many of its bottled counterparts.
In a press release announcing the exciting new product, La Colombe's co-founder and CEO Todd Carmichael elaborated on the company's healthier fall initiative. He said,
The big beverage companies just don't get it. A seasonal drink, like pumpkin spice, should be a celebration of fall and the harvest time, not a harsh, unhealthy, chemical, sugar bomb. Hey big beverage, pumpkins are grown all across America. They are sweet, and delicious, and good for us.
A flavored coffee that's good for you and lets you skip long lines? Sounds wonderful to me!
If you wind up indulging in the Pumpkin Spice Draft Latte, be sure to share your photos on social using the hashtag #DraftLatte. And if PSLs aren't your thing, fear not — La Colombe has plenty more flavors including vanilla, mocha, chai, and original.
Happy sipping!