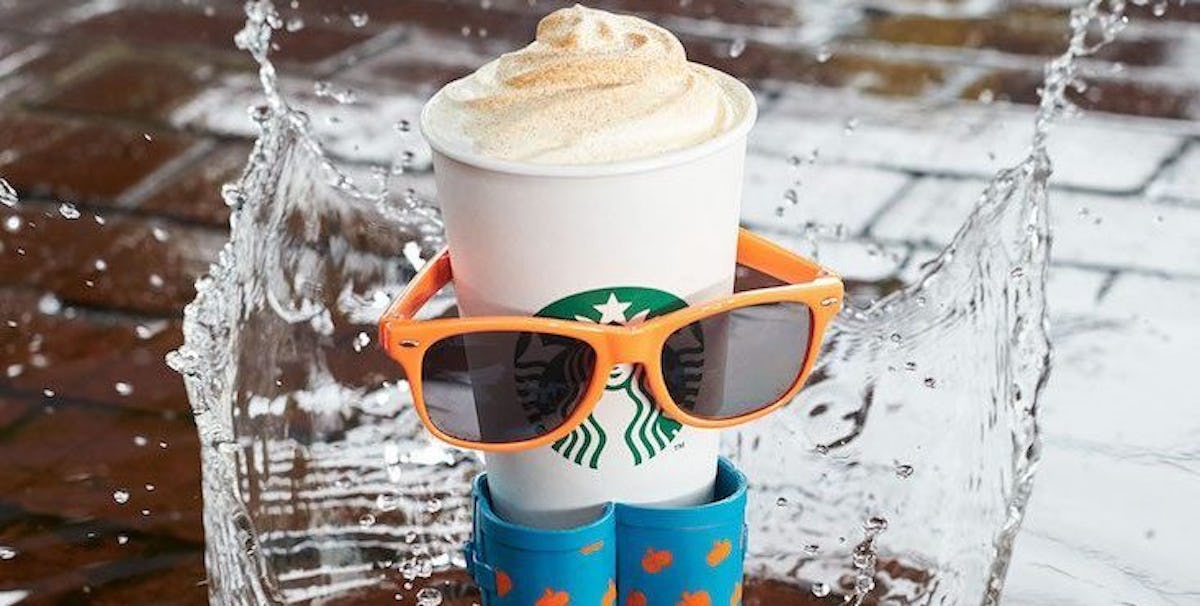 Starbucks' Pumpkin Spice Latte Is Coming Soon And This Hilarious Tweet Proves It
Starbucks
The Real Pumpkin Spice Latte knows something we don't know, and he's being ever so coy. In a cleverly executed tweet, the Real PSL — yes, he's an actual celeb in the foam  —  reveals that something major is happening very soon. Though no one knows for sure what he's referring to on social media, our adorable little star might have just hinted at Starbucks' Pumpkin Spice Latte release date, so sound the alarms.
Though somewhat illegible, the PSL in all his excitement tweeted, "I CAN'T TELL YOU YES I CAN NO I CAN'T STARBUCKS FACEBOOK SEPTEMBER 1ST THAT'S ALL I CAN SAY AH!!!" OK, you got that? Sept. 1, Starbucks' Facebook page. The fact that this message in all caps shows that he means business, so you're definitely going to want to stay alert.
Naturally, people responded with pure PSL joy to the mere hint that this fall favorite might arrive within a matter of days. Summer? What about it? That season's over. It's time to add a sweet, savory cinnamon flavor to all of your drinks. The fruity teas and new berry frapps had their moment in the spotlight, but they're amateurs — the PSL is the real deal, and no one messes around once autumn hits.
If you need extra convincing, the Real PSL spoke to Elite Daily about why you need to make him your fall go-to drink. He tells our editors,
My advice – make me yours. I have everything you need! Real Pumpkin + smooth espresso? That's me. Perfectly steamed milk and warm fall spices? Got you covered. I love all my pumpkin spice bebes. You do you. I do I. We do we.
This sounds like pure pumpkin spice fall perfection. All that's required now is a flannel shirt and a scary movie marathon. Sept. 1 cannot come soon enough. Let's try to count down the days patiently.