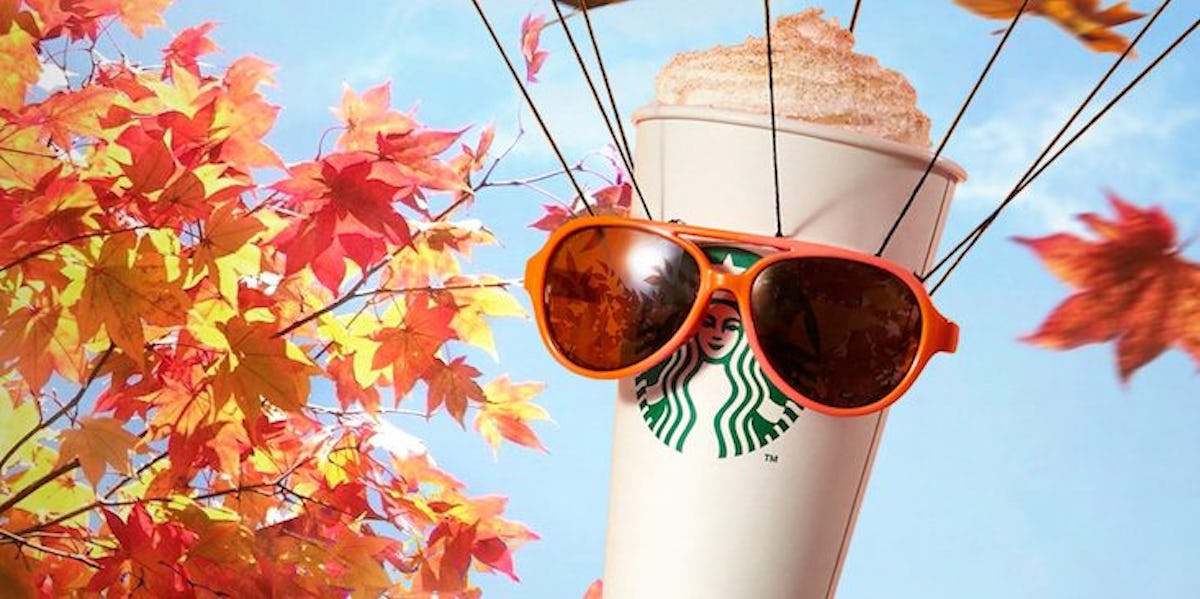 A Real-Life Starbucks Pumpkin Spice Latte Exists And We Talked About Everything PSL
Starbucks
Guys, I had the special opportunity to interview a celebrity, but you probably don't know who he is yet. You haven't seen him on the red carpet, and you certainly haven't seen him on the big screen. However, you've definitely greeted him in the morning and taken him to work almost every day of the fall season. I'm talking about Starbucks' Pumpkin Spice Latte... but not just any old latte. I'm referring to The Real PSL. Yes, a "Real" Starbucks Pumpkin Spice Latte exists, and I was lucky enough to chat with him about his life as a Pumpkin Spice Latte for an interview with Elite Daily. Of course, he gave me the inside scoop about everything PSL, and I've never been more excited for Starbucks' big debut.
For those of you who were unaware this smooth 'n spicy celeb was even alive, allow me to explain. The Real PSL (that's his full name) lives in Seattle, Washington. He's a stylish Starbucks cup with bright orange sunglasses and a whipped cream hairdo. To be completely honest, he's suave AF, and I was a little nervous about interviewing someone as cool as him. I mean, c'mon, it's not every day you get to speak with the most popular Pumpkin Spice Latte in the word.
OK, let's get down to business. You're probably wondering with The Real PSL told me, and I'll let you in on all his pumpkin spice-related secrets. Take a seat and grab a latte, because you definitely don't want to miss out on what this little guy had to say about his life as a Starbucks PSL.
To begin the interview, I asked The Real PSL what he's been doing during his off season. Was he away vacationing on a tropical island? Did he transform into an Iced PSL throughout the hot summer months? The answer is no, he didn't. Instead, he's been laying low.
The Real PSL tells Elite Daily, "A little bit of this, a little bit of that. A lot of 'nesting' and making plans for my favorite season. Wait until you see what I have up my sleeve!"
Tell us, PSL. What do you have up your sleeve?
Apparently, the cute lil' coffee cup has some big plans for this fall, and something tells me his highly anticipated Starbucks release has a lot to do with it. I asked what he's most excited for this coming autumn, and he didn't hold back.
The Real PSL tells me,
I can't wait to make my grand entrance, because this year, it's gonna be li-ter-a-ly life-changing. I can't say much, but I want to! But I can't. But I will say that if you're not on Facebook, get on Facebook. Soon. I've said too much.
Did you hear that everyone?
LISTEN TO THE REAL PSL AND GET ON FACEBOOK!
Unfortunately, he didn't tell us much more than that -- so we'll have to keep our eyes peeled on Starbucks' Facebook page and hope the coffee chain give us more information on the return of Pumpkin Spice Lattes. Thanks for getting our hopes up, dude.
Since we still have some time before Starbucks' big PSL release, I'm sure many of you have opted for other pumpkin spice latte options to keep your pumpkin-loving hearts afloat. Well, The Real PSL had something to say about his "imitators," too. When asked if he has any advice for his fans or imitators, the OG PSL tells me,
Does OG stand for 'original gourd?'
Ha. What a jokester.
My advice – make me yours. I have everything you need! Real Pumpkin + smooth espresso? That's me. Perfectly steamed milk and warm fall spices? Got you covered. I love all my pumpkin spice bebes. You do you. I do I. We do we.
Well, he has me sold. I am yours, Real PSL.
Even in costume, he's dreamy AF.
Anyway, while we were on the topic of Pumpkin Spice Lattes, I couldn't help but talk about the hardworking Starbucks baristas who make our PSL dreams come true every year. Out of curiosity, I asked The Real PSL if he'd ever want to be one of the baristas making magic behind the counter.
He tells Elite Daily, "Every. Dang. Day. Of. My. Life. Why do you think I took this job? They're happy to see me, I'm happy to see them. I'm just holding out for that promotion."
Keep chasing your dreams, PSL. We believe in you.
After The Real PSL told me everything there was to know about Starbucks' Pumpkin Spice Latte release, his opinion on PSL imitators, and his dreams of becoming a Starbucks barista some day (dream big, little guy), I decided to ask a few simpler questions that have continuously taunted me.
Given the association between his autumnal flavor and orange sunglasses, I had to ask: Is a pumpkin a fruit or a vegetable? Needless to say, his answer blew my mind:
Neither. It's a lifestyle. A frame of mind. A philosophy. Like the glass half-full/ half-empty thing… either you pumpkin, or you don't. Either you can't stop/ won't stop, or you can stop/ will stop… either you're crete, or you're not. Either you pumpkin, or you pumpkin't. It's like that.
Um... OK. Whatever you say, PSL. Just keep "pumpkin-ing" and we'll be happy.
Before my time with The Real PSL came to an end, I felt compelled ask him a few more... um... basic questions. I found out he loves to watch SNL re-runs (he's a big fan of David S. Pumpkins), and that his favorite food is dried mango (random, I know -- maybe it's the color).
Overall, The Real PSL is much more than a latte. He's a well-rounded, intellectual beverage who loves Pumpkin Spice Lattes just as much as all of us. He works hard, he has dreams, and he's super excited for Starbucks to finally release his line of lattes this September.
While you wait for the big debut, sip on a bottled Starbucks Pumpkin Spice Latte. I'm sure The Real PSL won't get too jealous.