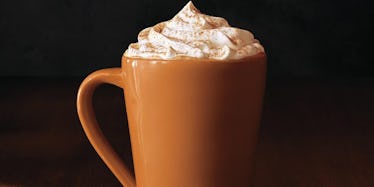 A Starbucks Employee Says Pumpkin Spice Sauce Has Arrived, And We Feel Teased
Starbucks
The PSL is here! (Well, sort of.) According to Reddit, pumpkin spice sauce arrived at Starbucks. Employees recently shared photos of the key Pumpkin Spice Latte ingredient already in their syrups and sauces arsenal — despite the fact that they, sadly, can't serve it until Sept. 5. It is only August, but regardless of the sweltering outside temps, I'm more than ready to sit in the AC and pretend the leaves are falling.
On Aug. 11, one member of the Starbucks subreddit, known as AppKerman, posted an up-close look at a giant bottle of the tempting caramel-colored flavoring with a telling caption, "It's coming. God help us all."
Another user, depsdeps15, shared a similar photo on Aug. 16, featuring multiple bottles of the good stuff. "It's here," they wrote.
If you're freaking out at just how early Starbucks is on its fall drink game this year — they did just release the autumnal Horchata Almond Milk Frappuccino — you're not the only one. Seriously, even the pros are raising a brow at the pumpkin sauce's mid-August arrival.
The top comment on AppKerman's post sums it up nicely. A Redditer known as TreeDeFletch wrote,
August 11th, 2017 1:09pm EST Pumpkin spice logged and confirmed. Halloween is 81 days away, Thanksgiving is 104. Whys is this here so early.....
It's coming. God help us all. from starbucks
It's here from starbucks
I don't know, but I FEEL TEASED.
Some sneaky Starbucks locations have reportedly already been making PSLs, but employees on Reddit were quick to remind their fellow baristas not to be "the other store." As in, the one who serves the pumpkin spice sauce ahead of its Sept. 5 debut.
While we wait for its full-scale release, at least we have this good news to tide us over: Starbucks' bottled PSLs will be available no later than Aug. 28, the company said.
I'm silently losing it over all the impending tastes of fall — even at Dunkin' Donuts.