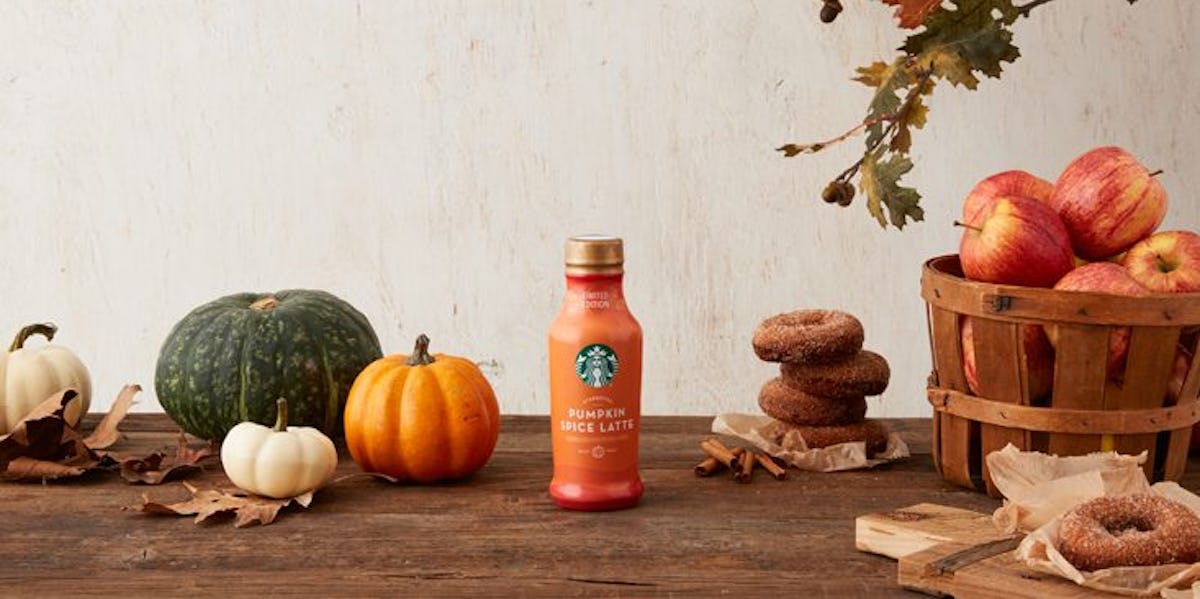 Starbucks' Ready-To-Drink Pumpkin Spice Lattes Are Here To Kickstart Fall Flavors
Starbucks
Forget about the just-released Horchata Almond Milk Frappuccino for a minute, because we need to talk about yet another tasty new coffee product: Starbucks' bottled Pumpkin Spice Lattes. Yes, bottled PSLs. The beloved coffee chain will debut the ready-to-drink bev at grocery stores nationwide in late August, officially kicking off pumpkin spice season with the crave-worthy fall flavors we love.
You might be crying, "But it's still summer!" And if you are, I'm sorry — mostly because I don't care about the fact that summer beach days haven't ended and we're already talking PSLs. I'm beyond ready to chug a caffeinated, milky mix of cinnamon, clove, and nutmeg spices. I'd even do so at the beach (gasp).
Which brings me back to those soon-to-be-released bottled Pumpkin Spice Lattes. They're made for on-the-go peeps who need their Starbucks fix — as Shakira would say — whenever, wherever.
According to a Thursday, Aug. 10, press release, the pumpkin spice flavor is actually a limited edition, seasonal version of the ready-to-drink Starbucks Iced Latte, which hit shelves in June '17. The fall-forward PSL will go for a suggested retail price of $2.79 at your local supermarket. Each bottle contains 14 fluid ounces of chilled espresso goodness, making it super easy to tote around.
In addition to the ready-to-drink Pumpkin Spice Lattes, Starbucks has a new Pumpkin Spice Flavored Ground Coffee, available now. It features all the exact same fall notes, but you'll have to brew it yourself.
These two PSL releases join Starbucks' roster of already-loved pumpkin spice-flavored coffee products, bringing it to a total of six goods. As a refresher, the four other products include K-Cups, an Iced Espresso Classics, a VIA, and a Frappuccino Chilled Coffee Drink.
You're probably wondering, "But when are they bringing back the OG Pumpkin Spice Latte?" Here's what we know: The company said in their press release that "the official date ... remains under wraps." Sigh.