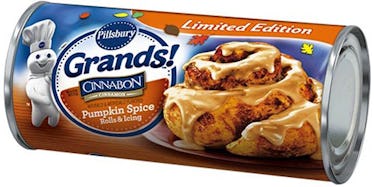 Pumpkin Spice Cinnamon Rolls Are Back To Make Autumn Doughy And Delicious
Pillsbury
Yes, it's the end of August. And yes, that means we're talking about all things pumpkin spice. Literally, name one thing you love, and I bet there's a pumpkin-y version ready for cozy fall weather. Pillsbury, for instance, is upping the ante for cinnamon roll lovers with the reintroduction of its seasonal rolls. Instead of regular icing, the tasty breakfast treats come with pumpkin spice-flavored icing for you to drizzle on as soon as they come out of the oven. Yum. By now you're probably wondering where you can buy Pillsbury's Pumpkin Spice Cinnamon Rolls, right?
They've already been spotted.
Arguably the perfect companion for Starbucks' original Pumpkin Spice Latte, these limited edition Pumpkin Spice Rolls are packed with fall flavors. Even the packaging — which was already spotted at Food Lion — is wonderfully fall-inspired. Adorned with little pumpkins and an appetizing orange hue, it's sure to make you do a double take (and purchase promptly) while you wait for Starbucks to announce the PSL's highly anticipated return.
Beyond traditional rolls, Pillsbury even has 24 unique recipes like Grands! Pumpkin Donuts and Creamy Pumpkin Spice Bars, which you can make using a tube of Pumpkin Spice Rolls as a base, channeling your inner chef. To summarize: you basically need 'em in your fridge.
According to reviews, customers have previously spotted the seasonal flavor at Kroger, Kroger affiliates, and Walmart. A Pillsbury representative confirmed the brand will be shipping it to most major grocery stores (e.g. Albertson's, Publix, Safeway, Shoprite) through November, Delish reports. So keep your eyes peeled!
If you'd rather smell pumpkin spice than taste it, be sure to stock up on all the PSL-scented products this season has to offer from Pumpkin Spice Latte candles to Native's Pumpkin Spice deodorant and Atlantic Fizz's Pumpkin Spice bath bombs.
Is it fall yet?