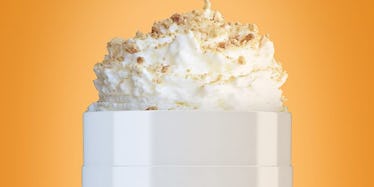 Pumpkin Spice Deodorant Exists If You'd Rather Smell Like A PSL Than Taste One
Native
The Pumpkin Spice Latte from Starbucks doesn't even have an official release date this year, and yet the scrumptious #basic scent has already infiltrated our beauty routines in more ways than one: bath bombs, lip balms, and now deodorant. That's right, the same people behind the amazing brunch-scented deos are back with another must-own armpit product. I give you: Pumpkin Spice deodorant by Native. Yep, you can literally smell like a PSL all season long, even if drinking one 24/7 isn't your thing.
According to Native's website, the scent is "inspired by the PSL" and "makes the perfect holiday gift." While the glide-on sticks — which feature the all-natural brand's signature white packaging and a pumpkin orange font — are available to order online right now for $12, but they won't start shipping until Tuesday, Sept. 5.
Just like Native's viral "Brunch Scents" (Rosé, Sangria, and Mimosa), its Pumpkin Spice Latte option is made with soothing ingredients like shea butter and coconut oil and contains zero aluminum, making it super safe for your precious underarms.
If you're skeptical about the whole natural deodorant thing, just know that Native's reviews are glowing for their 24-hour formula. One reviewer, known as Krystal N., basically convinced me to buy the entire line with this A+ recommendation from Tuesday, Aug. 29:
I have tried almost all commercially available deodorants,including the clinical strength formulas. I would often have to re-apply several times a day, and still didn't think the products worked well. After one application of Native I didn't have to reapply for the whole day, and loved the way it smelled and left my skin feeling soft. I will never again use another deodorant. Thank you for such a great product!
In all seriousness, there's no better way to exude fall vibes than to wear the season's most beloved scent beneath your arms (besides, you know, walking around aimlessly with a PSL in hand).