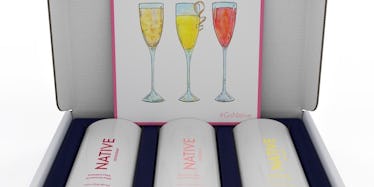 Brunch-Scented Deodorant Exists, So You Can Smell Like Fresh Mimosas All Day
Courtesy of Native
If you love brunch, you might want to take a seat for some exciting news about the midday meal that gets you out of bed on the weekends (because hangovers have nothing on cocktails and eggs).
Get this: You can now buy deodorant that smells exactly like the drinks that give brunch all its glory.
This is huge news, guys.
I'm not sure why no one ever thought about giving deodorant a boozy spin before, but it's genius.
The all-natural brand behind the genius creation, Native, is one you ought to know for so many reasons.
First, let's talk about brunch.
Native recently launched a limited edition 3-piece box set of "Brunch Scents" that features their bar formula fragranced with classic cocktail go-to's that include Native Rosé, Sangria, and Mimosa.
The set retails for $30, and my armpits need it.
People are obviously obsessed with the idea of smelling like rosé, but I personally can't stop thinking about what it would be like to smell like a mimosa.
Are the notes more champagne than orange juice? Or mostly OJ? I need to know!
All scents aside, it's time to talk about the deodorant itself.
Here's a closeup of the beautiful mimosa-scented bars:
Like all Native products, these bars contain soothing ingredients like shea butter and coconut oil, making them totally safe to reapply throughout the day (or when you need a little refreshing pick-me-up).
However, you might not actually need to reapply considering the natural brand promises that their glide-on formula lasts all freakin' day.
I don't think I'd mind smelling like a mimosa for 24 hours, to be honest.
Besides the three deodorant bars, this limited-edition set even comes with a chic illustration of the drinks that inspired the scents.
I can't help but love everything about it and don't think I can go back to my usual deodorant after this revelation.