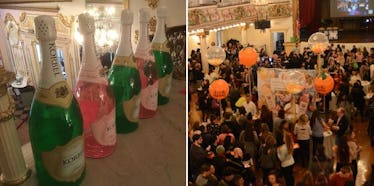 BrunchCon Is The Sunday Funday Every Mimosa-Lover Has Been Dreaming Of
Danielle Valente
Armed with an empty plate and a plastic glass begging for an early-morning mimosa, 2,500 hungry attendees filed into Grand Prospect Hall for New York's first-ever BrunchCon this Sunday.
"If you don't brunch hard, I feel like it's not worth it to brunch at all," the event's founder, Sarelyn Radecke, said. "I like how it's a fusion of morning people meets non-morning people. It usually signifies that it's the weekend and it's more relaxing."
Today was not one of those relaxing days, though.
Clad in very appropriate outfits — "Brunch squad" sweatshirts, "Espresso then Prosecco" tees — large groups (of mostly women) were Instagram-ready. The crowds made their way from the various seven stations in the catering hall to get a taste of what was cooking.
Attendees were given their utensils upon entry, and from there, it was go time.
The event featured roughly 50 vendors — most of whom were from Brooklyn, since it's obviously the brunch capital of the US — and also included an array of artists selling jewelry, makeup and other goods when those in line needed a breather from the food.
And when a real breather was in order, BrunchCon provided a hangover lounge with coffee and coconut water.
Between mimosas, coffee, scones, pastries and more non-conventional breakfast foods (multi-colored ice cream, chips and guac), guests certainly had a lot to choose from.
"My favorite thing is watching people get excited about brunch food and places and restaurants they've never tried before — and places they never would've thought they'd try," said Sara Landon, who is responsible for coordination on the day of the event.
Food and booze aside, the event is about more than indulging, as proven by a group of three best friends —Christina Kavalis, Avery Peters and Kara Herbeck — millennials who hail from New York, Connecticut and Rhode Island respectively.
For them, brunch, like it is for many Gen Yers, is about the company.
"We're always gathering in the city, we always seem to come here to hang out," Peters said. "We only see each other a few times a year."
It's the perfect way to bond and take a load off when you just need some time with your pals. Though Kavalis shared that same sentiment, we have to be honest with you: Girlfriend needed that drink.
"The food can wait, but we definitely come for unlimited mimosas," she joked.
Other millennial brunch-goers can look forward to the event next year in 10 cities, including Boston, San Francisco and Chicago to name a few.
And for New York?
Definitely expect a round two, only this time, with a bigger venue.
"It's brunch, it's New York City and it's something New Yorkers take very seriously," Landon said.
You can get yourself prepared with stretch pants now. We won't judge.