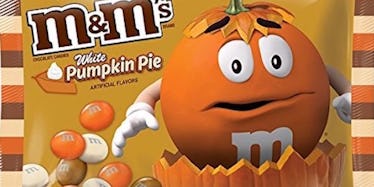 New White Pumpkin Pie M&M's Will Get Every Chocolate Lover In The Mood For Fall
Mars Wrigley Confectionery
M&M's fall flavors are proving to be so good, y'all. First of all, they've got Cookies & Screeem, a Target exclusive. However, on Thursday, Aug. 31, the popular candy brand announced two more equally festive options: White Pumpkin Pie M&M's and Peanut Chocolate Ghoul Mix M&M's. And just like that, M&M's has managed to tick all the autumnal boxes from something pumpkin to something trick-or-treat-able. Once you find out where to buy White Pumpkin Pie M&M's, you'll be obsessed.
Unlike Target's exclusive spooky take on cookies and cream ($3.99), the two aforementioned M&M's flavors will be available at most major grocery stores nationwide for similar prices. (White Pumpkin Pie M&M's for $3.49 and Peanut Chocolate Ghoul Mix M&M's $3.27). But the real question is this: What will they taste like? (A pumpkin dream? Beyond scary?)
Here, let's break down what you can expect... aside from a total burst of fall vibes.
M&M'S White Pumpkin Pie Candies
With a clean white outer candy shell, these pumpkin pie-flavored bites have a unique look to them when you compare them to the array of colors found in a traditional bag of M&M's. They're made with white chocolate instead of milk and — dare I say? — give pumpkin pie Kit Kats some major competition.
M&M'S Peanut Chocolate Candies Ghoul Mix
One of the best things about fall is the vast array of Halloween candy available, namely the scary "mixes." M&M's Ghoul Mix is made with their regular peanut chocolate candies, but what sets the sharable mix apart is its "batty" design and Halloween color scheme. Also, no, you don't need to share it with anyone.
Sigh. If these M&M's don't make you wish the leaves were already falling, I don't know what will — except maybe the thought of enjoying a Pumpkin Spice Latte, wearing your favorite sweaters, or curling up with a good book.
The good news is, the countdown is on. Literally. Someone made a PSL tracker, and we're this close to autumn IRL.