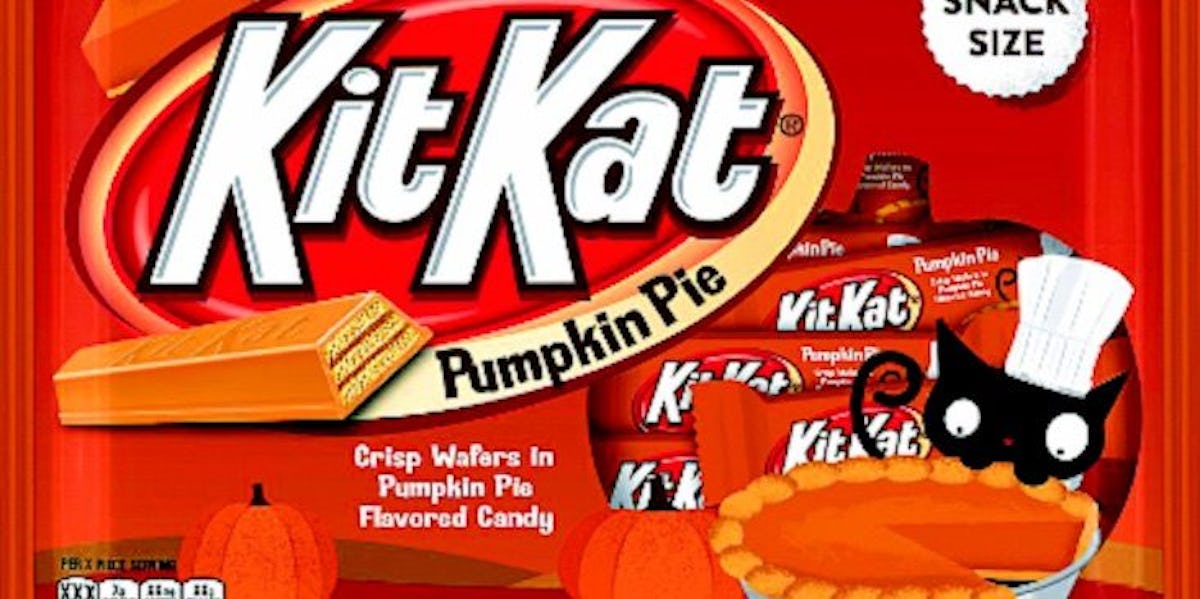 Pumpkin Pie Kit Kats Are Here And We're Officially Hungry For Fall Flavors
Pumpkin-flavored products will always excite me no matter what, and Kit Kat's brand new Pumpkin Pie flavor is certainly not an exception. Rather than capitalizing on the PSL side of fall's pumpkin craze, the candy brand opted to take a more Thanksgiving-inspired route with a pie flavor. For those wondering where to buy Pumpkin Pie Kit Kats, the caramel-colored wafers are available at Kroger and Kroger affiliates, popular junk food blog Junk Banter reports.
According to the packaging featured in Junk Banter's Instagram photo — which was taken by Theresa Papon (@tmpap) — the Kit Kats are covered in pumpkin pie-flavored crème rather than traditional chocolate. They said in their post,
Break me off a piece of that pumpkin pie, baby! New Pumpkin Pie Kit Kats! These were found at a Dillons, another store owned by Kroger. No word on other retailers yet but something of this magnitude should make it to other retailers too. It damn well better! Weird Kit Kats and pumpkin spice flavored things are basically the two reasons I exist.
That last line though: "Weird Kit Kats and pumpkin spice flavored things are basically the two reasons I exist." Same. Although, I'm not super into the cough drop flavor, I have to say.
Another Instagram account dedicated to sweet treats, Candy Hunting (@candyhunting), also got its hands on the seasonal Kit Kats at a Kroger affiliate. "Pumpkin Pie Kit Kats have arrived!" it captioned its similar photo of the candy. "Found them at Pick 'n Save, which is owned by Kroger."
What are you waiting for? Look up your nearest Kroger, and go, go, go! Your taste buds will thank you — even if you've completely abandoned summer flavors for a mid-August fall obsession.
I can't wait to dip a Pumpkin Pie Kit Kat into my first Pumpkin Spice Latte of the year.