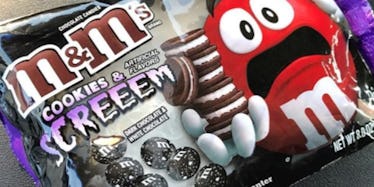 Cookies & Screeem M&M's Are Finally Back And We're So Ready For Halloween
Junk Banter
Because it's never too early for a Halloween candy release, M&M's has reportedly brought back their spookiest flavor — in August, popular food Instagrammer Junk Banter reports. The junk food expert posted a photo of the moody purple and black packaging with a tip on where to buy the Cookies & Screeem M&M's right now.
Where can you get them?
Junk Banter spotted the Halloween-themed M&M's at Target, but I imagine they'll soon be at most major retailers. In the meantime, go ahead and add 'em to your shopping cart filled with things you definitely don't need during your next Target haul.
What do they taste like?
As you probably guessed, Cookies & Screeem is a play on a classic flavor: cookies and cream. Judging by the packaging featured in Junk Banter's telling Instagram photo, each bite-sized candy will be dark brown (chocolate) with speckles of white "cream." Even the M&M character is holding a handful of cream-stuffed chocolate cookies, proving that the flavor is, as POPSUGAR puts it, "sort of like a mashup between M&M's and Oreos."
In their Instagram post, Junk Banter described the premature Halloween find and teased an upcoming wintry M&M's flavor, writing,
Does anyone even own a calendar anymore? New Cookies & Screeem M&M's at Target. They feature white chocolate with an outer coating of dark chocolate and a speckled design. We've flirted with this concept before: Easter Sundae M&M's were white & milk, and Double Chocolate M&M's were milk & dark. Of course this is all spooky foreplay for the Triple Chocolate M&M's coming this winter, which have milk, dark, & white.
Sigh. The candy business is so on top of its seasonal flavors.
Even though it feels super early, I'm actually thankful M&M's and Junk Banter have reminded me to start thinking about my Halloween costume and apartment decorations in advance.