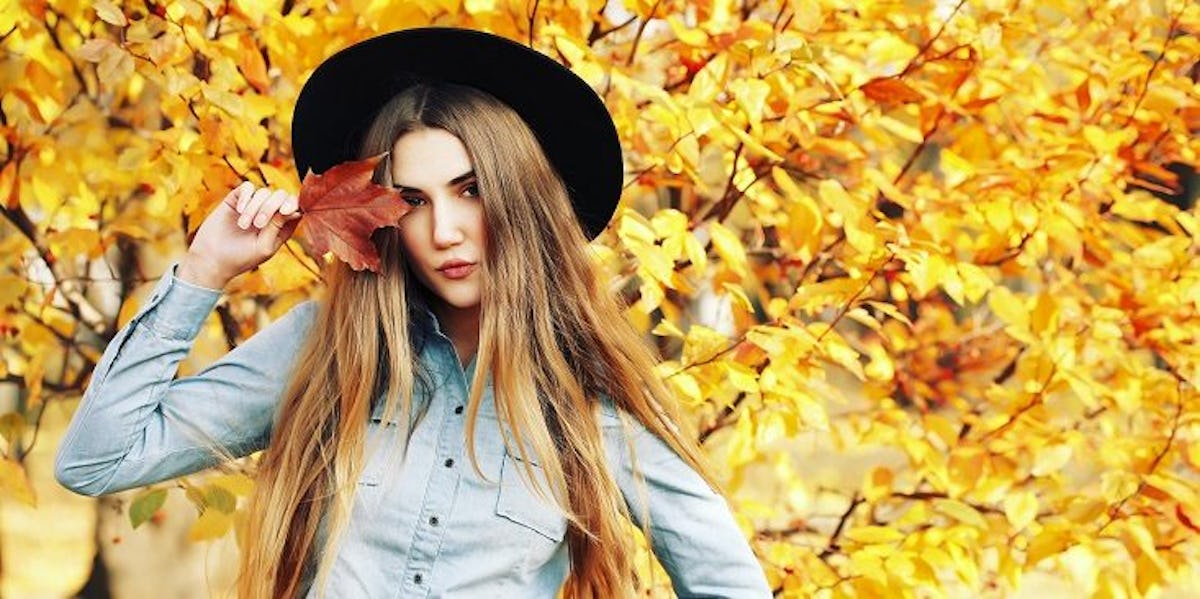 8 Pumpkin Spice-Flavored Treats Every Basic Girl Needs In Her Life This Fall
Kseniia Perminova/ Shuttershock
It's time to saddle up for all that is fall, and if that includes being basic as hell, then so be it. As much as the changing season is involuntary and it's torturous letting go of summer, we're here for the food options. And let's be clear, pumpkin spice-flavored food will be all the rave soon enough, and we will be fist pumping down every aisle, giddily waiting in lines and swooning over the new seasonal treats whipped out this year.
Food is life, literally, and if anyone tells you they don't reap the benefits of fall food galore, they're lying and clearly they're missing out. Seriously though, that's definitely their loss. Our inner foodie almost can't handle all of the glorious options that seem to all spring up once September hits. Who knew pumpkins could be used in so many different ways? We've honestly lost count.
It's literally a magical, mouthwatering wonderland for our taste buds, and we certainly aren't complaining. We're too busy feasting our eyes on these drool-worthy goodies. So, if you're willing to skip down basic lane this fall with a Pumpkin Spice Latte in hand, try pairing it with one of these treats.
1. Not Even Rice Krispies Treats Are Safe From Being Basic
You'll love this tip: "PUMPKIN SPICE KRISPIE TREATS: A FESTIVE DESSERT IN 10 MINUTES!" https://t.co/AsjuV7vCsb pic.twitter.com/PNwH1C5GcN — Tori Nicole (@xtorinicolex) August 6, 2017
It's time to snap, crackle, and pop one of these babies right into your mouth this fall. I don't think marshmallows have any better duty than to be the sticky base for this treat. Seconds are basically mandatory.
2. Oh Shoot, You Had Me At Cheesecake
Please RT! #recipes #food #dessert Pumpkin Spice Cheesecake with a Gingersnap Crust! https://t.co/nA1IBendUg — Best recipes (@bestrecipesclub) August 14, 2017
Almost any flavor of cheesecake is delicious, but pumpkin spice? Please, don't mind us hopping on the fall bandwagon. It really ain't so bad after all, huh?
3. Combine Cheesecake With A Cupcake, And That's Teamwork At Its Finest
Just added Pumpkin Cinnamon Spice Cheesecake Cupcakes to the shop! Check it out here: https://t.co/gnUXfSPtlL pic.twitter.com/BHmlwNCKFa — BodySpyce (@BodySpyce) August 13, 2017
Once you start combining baked goods, it's a wrap. Leave being basic up to us. Make these pumpkin spice sweets as complex and complicated as you want. We're here for it.
4. Cookies Didn't Stand A Chance
In the mood for something sweet? These Pumpkin Spice Cookies will do the trick! https://t.co/5godl6ppmTpic.twitter.com/CyxHDlqF6M — EatPlant-Based.com (@EatPlantBasedTE) June 16, 2017
Cookies are not only delicious, but they're good for any occasion. Cookies are literally that one friend who makes a great impression wherever she goes. We love this friend. You go, Glen Coco.
5. This Is The Fall Flare Breakfast Was Missing
#PinoftheDay: Is it fall yet?! #pumpkinspiceeverything Pumpkin Spice Waffles: https://t.co/PbPATRdp9npic.twitter.com/7K7YlSm8Pk — Local 12/WKRC-TV (@Local12) August 13, 2017
Breakfast is the most important meal of the day, right? Might as well start it off with the grasp of pumpkin in fall. Is there a pumpkin spice syrup? We need to know.
6. When Pumpkin Spice Introduces Adulting To Childhood
Liquor Lollipop jagermeirter pumpkin spice #Lollipop#liquor#alcohol#pumpkin via https://t.co/MAcEzfv80zpic.twitter.com/8YgxB8SaGk — Sugar and Spyked (@Sugarnspyked) October 6, 2016
Spiked lollipops are really a thing. Sometimes, adults need that childhood nostalgia, you know. Your fall bases aren't all covered if you skip out on one of these.
7. Jell-O Has Literally Done It All
Jello brand Pumpkin Spice artificial flavor instant pudding and pie filling found at Walmart. pic.twitter.com/icfdnRBZvL — SnackFind Hawaii (@SnackFind808) October 20, 2015
The fascination with Jell-O just peaked that much more. It's hard to explain why we like it, but now we can swoon even more this fall. Our spoons are ready.
8. Yes, Muffins And Cupcakes Are Totally Different Concepts
Pumpkin Spice Muffin for breakfast? They are still warm! Get one and a latte this morning! We're OPEN 9-9. #kellystribe#BurlON#HamOntpic.twitter.com/JhZImgyo3I — Kelly's Bake Shoppe (@KellysBake) February 2, 2017
We already mentioned cupcakes, but muffins are in their own category. They're more acceptable to eat in the morning so there's room for fewer judgments when you have a couple of these for your big breakfast. Sharing may not be your cup of tea anymore.
Every year is an opportunity to get into the swing of fall with a little basic taste testing. We're ready to greet fall with open arms but an even wider mouth. Seriously, there's no shame in our game.