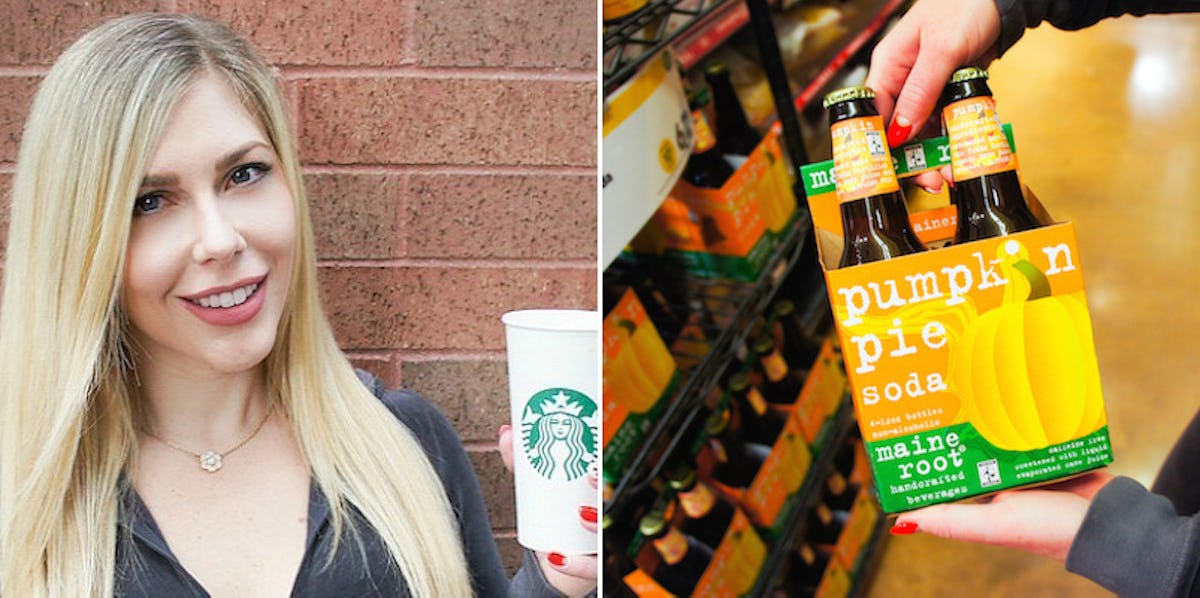 We Tracked Down 38 Of The Wildest Ways Pumpkin Spice Has Taken Over Your Food
Celine Rahman
It's no secret fall brings out the basic bitch in all of us.
It's the one glorious time of year when it's acceptable to shamelessly partake in all the typical autumn activities, like going apple picking, lying in piles of dead leaves and downing an endless amount of Pumpkin Spice Lattes.
However, it appears that some people clearly don't know how to keep their PSL obsession under control.
Now, this diabolical drink is morphing into an unstoppable disease that's infecting all of our favorite foods with its basic AF flavoring.
If the thought of PSL-inspired pizzas and French fries is enough to make you cringe, you might want to grab your favorite snacks and seek shelter in a doomsday bunker until winter rolls around.
Apparently, those orange atrocities were just the beginning of the terrifying pumpkin-pocalypse that's currently underway.
Yep, the basics are on a mission to pumpkinize every damn thing they can sink their French-manicured claws into. No food is safe from the wrath of the PSL epidemic anymore.
As a former basic bitch from Westchester, I felt there was no better person to call attention to this pumpkin-spiced problem than myself.
I whipped out my old Juicy tracksuit, threw on a pair of Uggs and set out to find a bunch of basic-ass snacks that prove the PSL food craze has gone way too far.
No, really, you might want to brace yourself: Pumpkin Spice is coming.
We stopped at Trader Joe's and Whole Foods, where I came across everything from the basic bitch staples like mini pumpkin pies...
Pumpkin butter...
And bougie PSL-inspired bark...
To pumpkin bread mix...
Pumpkin spice cookies...
...and some knock-off Cheerios that clearly have no chill when it comes to celebrating fall.
From there, things escalated pretty quickly.
There were pumpkin Pop-Tarts imposters...
Biscotti that captured the essence of fall...
...and basic brittle that clearly wants to watch the world burn.
Plus, there was autumn-inspired yogurt...
Pumpkin-flavored cinnamon rolls...
Obscene orange macarons...
Basic AF bread pudding...
...and some cookies that could have easily been mistaken for Oreo's ugly, pumpkin-shaped cousin.
I came across cold-pressed pumpkin juice...
Pumpkin spice ice cream...
Pumpkinized popcorn...
Gluten-free pancakes that were obvi made with health-conscious basics in mind...
...and some frozen pumpkin waffles that were equally as offensive.
But that's not all. There was cookie butter laced with the diabolical flavors of fall...
Pumpkin-contaminated cheesecake...
Seasonally spiced salsa that literally almost made me die...
Bougie pumpkin beer...
Body butter that almost made me vom PSL all over my UGGs...
...and some pumpkin cereal bars that came with a pitiful pun on the box because I guess being PSL-flavored isn't off-putting enough.
Seriously, this just proves some things have absolutely no business being pumpkin-flavored.
Pumpkin pie soda? That's going to be a hard "no" for me.
Whoever came up with the idea for this pasta sauce seriously deserves to be punched in the face.
Just look at this pumpkin-on-pumpkin crime...
Then I found this basic bag of chips that should be behind bars...
These cupcakes that literally can't even...
This tea that totally sold out on the PSL trend...
This basic soup that should be ashamed of itself...
These sad, pumpkin-spiced ice cream sandwiches...
...and this box of chocolate that's clearly having a flavor identity crisis.
Pumpkin mochi? Now I've seen it all.
Not even dog treats are safe from these pumpkin-spiced shenanigans.
For now, I think I'll keep my pumpkin spice in my damn latte where it belongs.
On a side note, it turns out bees low-key love basic shit too because I was attacked by a yellow jacket moments after this picture was taken. Once again, this proves pumpkin is the root of all evil.