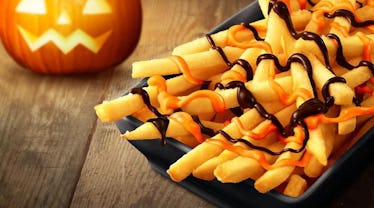 McDonald's Launched Pumpkin Chocolate Fries, Taking 'Basic' To A New Level
McDonalds
Autumn has slowly crept up on us, so you know what that means.
It's time to whip out your UGGs, throw on a blanket scarf and brace yourself because winter pumpkin spice is coming.
That's right. What was once reserved as a secret ingredient for grandma's famous pumpkin pie has transformed into an unstoppable epidemic on a mission to infect all of our favorite things with its basic flavor.
Yesterday, we showed you one of the latest victims to fall ill with this infectious seasoning: a pumpkin spice pizza.
If there's one thing we can learn from this upsetting event, it's that nothing is safe from the wrath of pumpkin spice these days.
Not even french fries.
Yep, if you love McDonald's french fries just as much as your boy Kanye, you might want to cover your eyes.
McDonald's Japan just hopped on the basic bandwagon and added chocolate pumpkin french fries to its fall menu.
McDonald's in Japan selling Pumpkin Chocolate french fries. They have sweet pumpkin sauce & chocolate drizzled on top. Thoughts? pic.twitter.com/xIjDQvtV8q — Karson Tager (@karsonwithak) September 22, 2016
Apparently, these things are just normal fries dressed up in a slutty Halloween costume, consisting of pumpkin sauce and chocolate drizzle.
McDonald's in Japan is selling Pumpkin Chocolate French fries. They're regular fries with sweet pumpkin sauce and chocolate drizzled on top pic.twitter.com/hBnxmb3Yjr — 93-5 The Move (@935TheMoveTO) September 22, 2016
If you're not really sure how you feel about these things, you're not alone.
Pumpkin chocolate french fries at @McDonalds? Does this sound "appetizing" to you? Would you give it a try? Or no way? @VeronicaDLCruz — Nightbeat (@NightBeatTV) September 22, 2016
The Twitter-verse blew up with a wide range of responses to this interesting take on fries.
McDonald's in Japan is selling Pumpkin Chocolate French Fries because WTF JAPAN? https://t.co/bgRUFNfccU — Argyle Gecko (@ArgyleGecko) September 21, 2016
Some people seemed really confused about the whole thing and didn't really understand why McDonald's would do something so cruel to its precious potatoes.
@BadGameReviews The more important question is: Why the fuck is McDonald's putting choclate and pumpkin on French fries? Sounds disgusting. — James (@Goldsnivy1) September 22, 2016
Other Twitter users appeared sickened by the whole pumpkin spice situation and responded to the bougie flavor with feelings of pure disgust.
about McDonald's new pumpkin flavored French fries with chocolate syrup pic.twitter.com/DSKnHdSFPK — John Hugo (@Jphugo95) September 21, 2016
Last but not least, there were also a handful of adventurous (or hella basic) eaters out there, who said they would be down to try this autumn-inspired snack. Seriously, we commend you for your bravery.
McDonalds in Japan is selling pumpkin chocolate french fries. What a time to be alive — Heather Stokes (@hjstokes13) September 22, 2016
If you're also looking to swap out your PSL for an order of PSF, the pumpkin spice fries will be available from September 28 to October 31.
@ImChaseLOL McDonalds Chocolate & Pumpkin fries. Imma tear that shit up — Rosuto (@rosuto4u) September 21, 2016
However, before you get too excited, you might want to throw your favorite Juicy tracksuits in a suitcase and head to the airport. Unfortunately, McDonald's will only be dishing these bad boys out in Japan.
Seriously @Starbucks @McDonalds why does Japan get all the crazy cool stuff. Where's my Sakura lattes and pumpkin fries!?! https://t.co/O3zgb7vas8 — Sofia-Kamikaze Kiwi (@FiaKamikazeKiwi) September 21, 2016
Don't worry, though. It's only a matter of time before someone comes up with another pumpkin spice creation that's even more absurd.
Oh my. @McDonalds in #Japan is selling Pumpkin Chocolate French Fries https://t.co/XHtENLXh3xpic.twitter.com/KQrhRcbGox —Jon O (@itsmejono) September 21, 2016
Citations: Your bae McDonald's just launched pumpkin chocolate fries for autumn (Metro UK)