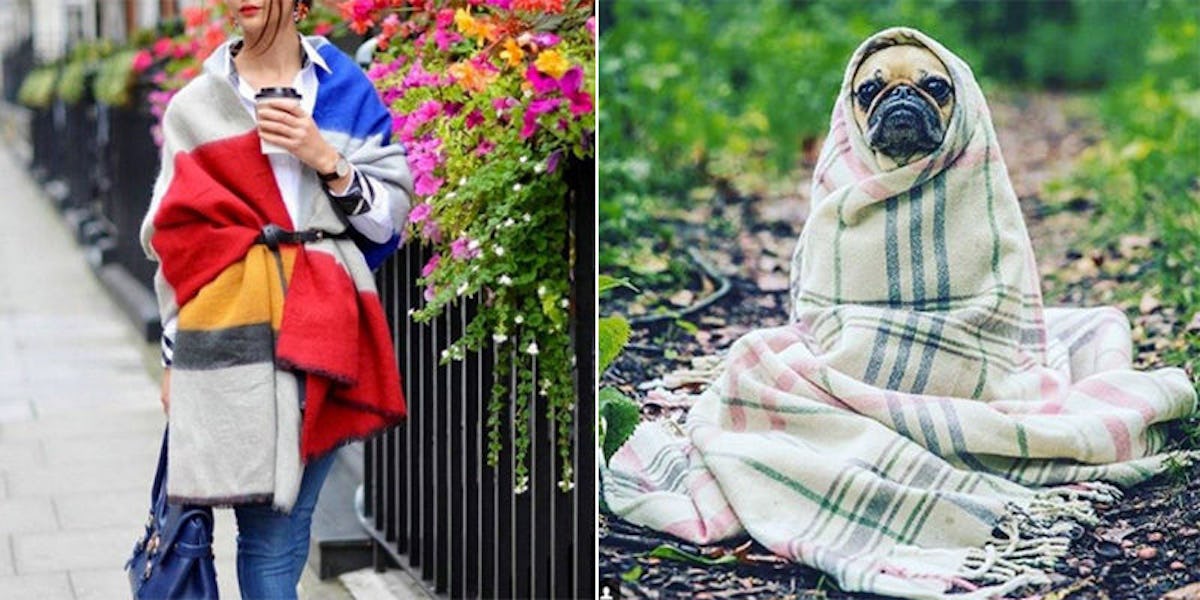 People Are Wearing Blankets And Trying To Pull Them Off As Scarves (Photos)
Instagram
Winter is the perfect time of year to rock all of your favorite wool sweaters and cable-knit accessories.
Scarves have always been a staple in my cold-weather wardrobe.
But lately, it's come to my attention a growing number of people can't tell the difference between scarves and bedding.
That's right. It seems like a lot of people have forgotten the difference between throw blankets and woolen cold-weather accessories.
The world was first introduced to this strange phenomenon when Lenny Kravitz gave zero f*cks about his outfit one day and decided to leave the house with a literal blanket wrapped around his neck.
Since then, this temporary scarf amnesia has been spreading like wildfire and now tons of people think blankets are the same thing as scarves.
Don't get me wrong. There are days that are cold enough to wish comforters made socially acceptable outfits.
But these scarf offenders are slinging snuggies over the shoulders on the reg and making a habit out of wearing part of your bed in public.
Seriously, wearing your blanket to work is not the right way to make a winter fashion statement.
Take a look at the pictures below to see this absurd scarf trend.
As the cold winter weather returns, we've seen an alarming number of individuals who have clearly forgotten what a scarf is.
Many are confusing blankets with winter fashion accessories...
...and people are basically wrapping comforters around their necks and calling them scarves.
I mean, don't get me wrong, these enormous scarves look cozy AF.
But there's a fine line between rocking an oversized knit accessory...
new blanket scarf. #so #fashion pic.twitter.com/1qoArNj1vw — Quinn Collins (@cquinnyc19) November 24, 2015
...and wearing part of your bed out in public.
@Laurel_Robbins A5 I forgot my winter scarf. Had to use the hotel blanket! #AdvTravelChat pic.twitter.com/5y8hXJFTn4 — ADRIAN QUIHUIS (@AVQUIHUIS) November 18, 2015
These people have clearly crossed that line.
When it's so cold bitches start using blankets as scarves pic.twitter.com/fCUJAL4THb — Kaylin Pound (@kaylin_pound) October 18, 2015
Just look at this person with a duvet draped over her shoulders.
This bedspread isn't fooling anyone.
Here's a quilt that desperately wants to make a fashion statement...
...and this colossal cable-knit is in denial about being a damn blanket.
This scarf is so effing big, you need a belt just to keep it on.
The only thing missing from this nap-ready #OOTD is a pillow.
Pray for my friend @chloedethorne there's nothing wrong with her but she likes to use her scarf as a blanket pic.twitter.com/SdjYPm8LJV — Zoee Arreguin (@ArreguinZoee) November 20, 2015
These big ass scarves have gone too far and need to be stopped.
I mean, seriously, even dogs are doing it.