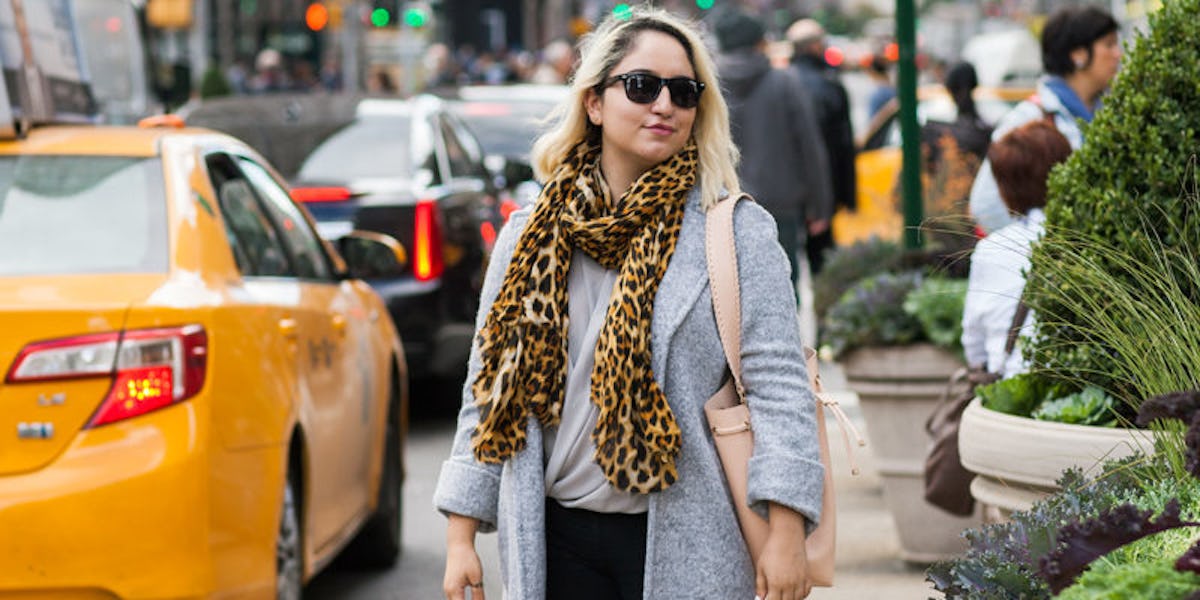 Protect Your Neck: 5 Unconventional Ways To Wrap Your Scarf This Fall
Scarves are reminiscent of that chick from your college group who's always like, "I'm down for anything!" but ends up being the pickiest one of the bunch.
Scarves are meant to be versatile and malleable. Yet, when it comes down to it, they always look just a little out of place.
Every girl has a few basic scarves in her wardrobe, whether it's leopard, blanket-esque, silk or graphic. The trick is treating the fall staple as a standout piece on its own, rather than an afterthought.
For a few tips on how to rock this flowy piece of fabric with ease, check out our tutorials below.
This is your basic b*tch wrap done in a non-basic way. Take your favorite rectangular scarf and drape it around your shoulders, with one end dangling lower than the other.
Next, make a loop around your neck with the longer end, so the two hang somewhat evenly at your sides.
We've all come into work the morning following a night of bar-hopping still wearing what we wore that evening. There's no shame in it, just make sure you're not flashing anyone in your morning meeting.
Take your rectangular scarf and fold it in half. Next, drape the loop end on one side so the open end is dangling on the other.
Next, take one of the dangly ends and pull it over and through the loop on the other side. Take the remaining dangly bit and pull through the loop again, but this time pull it under and through the loop, creating a complex-looking knot.
You fancy, huh?
So you just got a blowout but forgot to check the forecast? Don't stress. Your scarf can save you from limp and sad curls.
A silk scarf might not protect your hair from torrential downpour, but it'll help in a pinch. First, fold your square scarf into a triangle along the diagonal. Drape it around your head, so both ends are evenly hanging at your sides.
Next, loosely tie the ends together and wrap them around behind your head. Tie the ends around the back to keep it secure around your head.
Grace Kelly's got nothing on you.
Proposal: All offices should consider Snuggies as official corporate attire.
When it's freezing at work, grab a giant scarf that looks like it can double as a blanket.
Fold that giant-ass scarf down the middle, then tie around the back of your head. Next, drape each piece around the sides to create a giant warm cloud around your neck.
Just because you're rocking that Pumpkin Spice Latte doesn't mean your look has to be cookie-cutter. Time to take that pashmina out of storage.
Fold the pashmina so the ends are at an angle. This way when you wrap it around your neck, it'll look less like a noose and more like a waterfall.
After you fold it in half, take one end and wrap around your neck. Pull both of the loose ends through and arrange so it drapes at an angle.