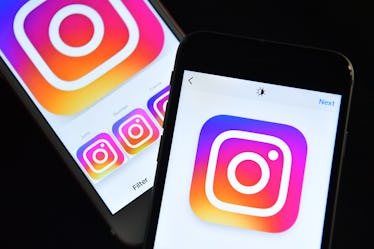 You Can Finally Add GIFs To Your Instagram Story With This Much-Needed Update
Carl Court/Getty Images News/Getty Images
Calling all Instagram story addicts — I have great news. You will soon be able to add GIFs over the images, videos, and boomerangs that you share to your followers. This is the latest addition to the relatively new feature on Instagram's mobile app, which has been taking over the social media game. So are you already scrambling to figure out how to add GIFs to your Instagram story, and figure out when will this exciting new feature be available? We have the answers to all of these burning questions.
So how exactly will this GIF addition work? Basically, you'll be able to attach GIFs as stickers to all of your Instagram story posts. A new library of GIFs powered by GIPHY will be added for you to search through and choose the perfect addition to make your story images and videos all the more interesting.
This new stories function will be available to users beginning on Jan. 23 at 11 a.m. ET, according to Instagram. You won't need to update the app via your App store as the new feature should be added to your Instagram automatically. But if you're not seeing the GIF sticker search function right on time, don't panic. It might take Instagram a couple of hours to get every single one of their users updated. If you're not seeing it, try restarting the app and trying again. But just be a little patient and you should have the GIF library available to you by the end of the day. So get ready and get excited!
There's two ways that you can find the GIFs that you'd like to use. You can browse the trending page from GIPHY and find something that's popular or relevant to the time that you're posting to your story, or you can search for a specific GIF in the search bar. And we have a couple suggestions for search terms you can use to make your GIF and sticker Insta-story experience a lot easier — and SO much more fun!
If you're looking to add some shades or a hat to anyone you've snapped for your story, search for "Accessories" and you'll easily be able to find the perfect sticker to match. You'll also be able to find any sticker that can be layered over a face using this search function, which includes eyes, lips, ears, or anything else you can think of.
Typing in "effects" in your sticker search bar enables you to find the stickers that add ambiance to your story, which includes everything from a sparkly overlay, to fire, to confetti. If you search for "peekers" you'll find a selection of stickers that pop up and disappear when added to your story images and videos. Two more self-explanatory search terms are "word art" and "emoji," which obviously will find you different fun phrases and emoji art stickers to layer over your images.
Searching general terms will also enable you to find the perfect GIF for any given occasion. If you're at a graduation or a wedding, searching a term like "congratulations" would be the easiest way to find something to payer over your image or video. Or if you're at a birthday party, searching for GIFs related to bday's is your best bet.
Whatever you choose to do with your GIF selection once it's added to Instagram, I'm certain that it will make your Insta story experience all the better. As for me, I'm most definitely a GIF enthusiast — so you know I'll be checking this new feature out. Now excuse me, I'm off to get my GIF game on. See you in the comments.