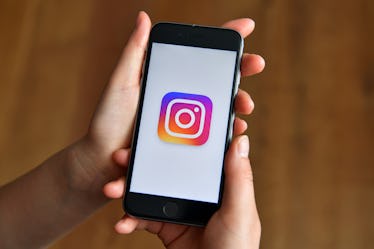 You Can Upload Different-Sized Photos To Your Instagram Story, So Goodbye Cropping
Carl Court/Getty Images News/Getty Images
Let's face it, Instagram pretty much runs our lives. Most of us spend half our time Insta-stalking anyone from exes to celebrities and the other half of our time is spent trying to get those perfect shots. Well I have great news! Starting Tuesday, Jan. 23 at 11 a.m. ET, you will be able to upload different-sized photos to your Instagram story! But if you're wondering how to upload different-sized photos to your Instagram story, it's actually really easy.
According to Instagram, with the new update you'll be able to upload photos of any size to Stories without having to crop them. Just pinch-out to include the full photo, and it'll be surrounded by a custom color gradient. Or, if you liked the old look, you can pinch-in to get it to the old 9:16 size.
That's right folks, no more of that annoying cropping or worrying about getting your photo to fit perfectly in the given parameters. With this new feature you can say goodbye to the headache of resizing and cropping and hello to more freedom and better Instagram stories!
But that's not the only change coming to your favorite app.
Instagram will also be introducing GIF stickers to Stories. Now you will be able to animated GIF stickers, supported by GIPHY, to any photo or video that you add to your Instagram Story. According to Instagram, users will even be able to "browse what's trending in pop culture or search for a sticker to match any moment."
In order to see the changes you don't have to do anything but wait for them to appear. Although rollout starts at 11 a.m. ET it won't get to everyone at the same time. But it will get there! So if you're feeling impatient, give it a few hours. If you still don't see anything then just try refreshing the app.
Once you see the new changes you can start uploading content to your stories (remember no more cropping!) and you can use the search bar to find the sticker you want to add. If you're not sure what you're looking for, you can also visit the trending page.
Instagram also gave Elite Daily some tips on the new GIF feature's best practices. If you want to dress your photo up a little, for instance, you can type "accessories" into the search bar and that will give you anything you can layer over faces. Things like sunglasses, hats, and even eyes and lips.
Maybe you want to enhance the scenery of your photo. Make it more festive, romantic or sparkly. All you have to do is search "effects" and it will bring up things like sparkles, fire, confetti, and glitter!
According to Instagram there are also stickers called "peakers" that pop up and then disappear. Instagram suggests adding them to landscapes or photos where they can pop up from behind something.
If you need to add some words, searching "word art" will allow you to add all those LOLs, OMGs, and bye's! You can also use it to say happy birthday, because as we all know the birthdaygram is a must.
In addition to all of that, you can also just search "emoji" and that will bring up specialized sets, which Instagram says are very popular.
Finally, if you want to celebrate a big event, then just type in "happy birthday" or "congratulations" and get to decorating!
While Instagram isn't the first, or only, social media platform to use Stories, it's clear they're stepping it up. Though this new Instagram feature does sound very similar to what you are used to on, say Snapchat, it does seem a little more advanced — the biggest difference being able to browse through a page of what's trending in pop culture. I guess we'll just have to use it to be sure.
Personally, I can't wait to add a ton of ridiculous stickers to all the photos of the size of my choosing. Happy Instagramming!