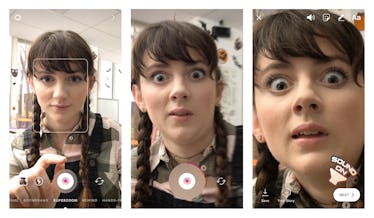 Instagram's New Superzoom Feature Lets You Dramatically Zoom Into Your Friends' Faces
Instagram
Days after announcing the ability to go live with a friend, Instagram has unveiled an even newer feature users are going to obsess over: Superzoom. As the name suggests, it takes zooming on Insta to the next level. Curious about what exactly that means? Here's how to use the Superzoom Instagram feature for hilarious closeups to entertain your followers.
How It Works
Just like Boomerang, Superzoom is available in the camera options on Instagram. Once selected, the format lets you zoom in on any object (your face, your friends' faces, your cat, etc.) with dramatic music playing in the background. All you have to do is tap the camera icon to start recording a 3-second Superzoom. If you want a longer clip, you can tap and hold the camera icon to record for your desired timespan. Just like anything snapped in Instagram's camera mode, Superzooms can either be added to Instagram Stories or shared with friends via Instagram Direct. And don't worry — the dramatic music is automatically added!
Obviously, we've been able to zoom on Instagram for a while now, but the thing that makes Superzoom unique is that it does the zooming for you. As soon as you focus the camera on your subject and tap the camera icon, the Superzoom wheels are in motion.
A company representative explained in an email sent to Elite Daily, "Superzoom adds a creative twist to any video — letting users easily zoom in on one object with dramatic music for added effect." The fun new feature is available on both iOS and Android as of Thursday, Oct. 26. (I don't know about you, but I plan on making all my Insta moments Superzooms. My chance to channel the iconic Dramatic Chipmunk has arrived.)
In addition to an overview regarding Superzoom, the team over at Instagram sent Elite Daily a few images and videos of the feature in action. Shoutout to the girl who agreed to record the amazing clip, because it is everything I plan to do and more. Here, let's go over what you can expect to see IRL, step-by-step.
1. Tap the camera.
2. Let the drama ensue.
3. Watch it back.
LOL. I love this so much. If you suddenly see an onslaught of Superzooms, don't blame your friends — it's literally what we've been (subconsciously) waiting for since the Dramatic Chipmunk went viral 10 years ago.
In addition to Superzooms, Instagram added a few Halloween updates to ensure everyone's 'grams are properly decorated for Halloweekend. The popular social media platform added a bunch of new Halloween-themed face filters including a flashlight effect, a fog effect, a night vision effect, a vampire effect, and a zombie effect. (That last one is required for any and all Instas of Starbucks' Zombie Frappuccino, TBH.) Instagram didn't stop at filters either, they have also stocked the sticker library with some spooky options like a flying eyeball, zombie hands, and devil horns.
In conclusion, Superzoom plus Halloween equals I am probably never looking up from my phone again — well, at least until All Saints Day (aka Nov. 1). Oh, what Superzooms I'll make! Spoiler: I've already planned my Halloween candy Superzoom. It will be a dramatic, 3-second clip of my gin and tonic, because it's no longer socially acceptable for me to trick-or-treat as a childless 25-year-old.
Have fun playing with Instagram throughout your Halloween celebrations, y'all! Please stay safe and remember use a ride sharing service like Lyft if you do plan on consuming alcohol.
Check out the entire Gen Why series and other videos on Facebook and the Bustle app across Apple TV, Roku, and Amazon Fire TV.