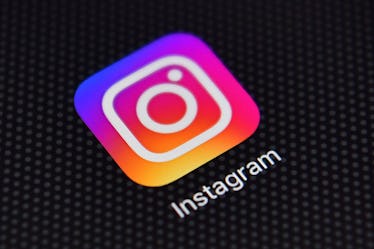 Instagram's New Feature Lets You Pin Your Favorite Stories To Your Profile & We're Here For It
Carl Court/Getty Images News/Getty Images
You might have noticed a tiny change on your Instagram profile when you woke up and checked your feed this morning... and when I say "tiny," I mean pretty dang huge. Instagram rolled out a major new feature on Tuesday, Dec. 5, and it's definitely altering the way your profile looks. The company introduced "Stories Highlights," which appear directly below the normal Story Tray on your page. So, what exactly are Instagram's Stories Highlights, anyway? If you like posting Stories on the reg, you'll be thrilled to find out.
Instagram Stories Highlights are basically just archived Stories that you can pin to your profile. In other words, if you have a favorite video that you archived and wish to keep it on your page, you can simply pin it there so everyone can keep watching it. Once you pin your Story, it'll appear in a Story Highlights Tray under your regular Story Tray and Instagram bio. Essentially, your followers will then have the option to watch your normal Instagram Stories in addition to to your Story Highlights. As someone who's quite obsessed with posting Instagram Stories, I'm super excited about the update.
Check out the photo below to see how the Stories Highlights will look on your profile.
See? It's pretty cool. If you're someone who doesn't like change, try to embrace it — because it's definitely a feature you can benefit from, especially if you like showing off your favorite moments.
Keep in mind that this Instagram's Stories Highlights is a change to your Instagram profile, so you'll need to go directly to other peoples' profiles to see their pinned Stories. This is different than what you're used to, because you friends' Stories Highlights won't be lined up at the top of your photo feed (like regular Stories are).
In order to create a Stories Highlight, you must first go to your profile. Then, you'll see a new "Highlights" section underneath your Insta bio. The first circle in your Stories Highlights section should say "New," and you should click on it! Once you click on the "New" button, it'll take you directly to your archived stories. Now, you can choose whatever archived stories you want to include in your first Stories Highlight group (super exciting). After you've chosen your favorites, hit "Next" and give your Stories Highlight a name... and after that, his "Edit Cover." You can choose your favorite media from the bottom of your screen and then use it as your Stories Highlight cover. Once you've completely those steps, his "Done" and then "Add."
Voila! You've got your first Stories Highlight.
This isn't the only "Story" update Instagram has rolled out within the past few months, though. On Nov. 7, the app starting letting people add videos and photos that are more than 24 hours old to their Instagram Stories. Before the big change, people were only allowed to add vids and pics to their Stories that were 24 hours old or less, which really limited the amount of content you should share.
If this is news to you, then allow me to enlighten you. Per Instagram's blog post, in order to add older photos or videos to your Story, all you have to do is "swipe up from the camera to open your camera roll or tap the gallery icon." Then, you can choose whatever photo video you want to add to your story (no matter how old it is), and viola! You'll have a new Story made from an old memory.
That's not it, though. Once you've chosen an older photo, Instagram will provide you with a new sticker you can add to your Story to let your followers know exactly when the photo was taken.
Between this feature and the Instagram Stories Highlights, your followers will be totally up to date on your daily activities (past and present). Have fun, ya'll!
Check out the entire Gen Why series and other videos on Facebook and the Bustle app across Apple TV, Roku, and Amazon Fire TV.