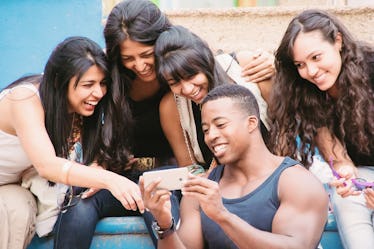 You Can Finally Add Pics & Vids That Are Over 24 Hours Old To Your Instagram Story, So Rejoice
In a quest to conquer your stories-loving heart, Instagram has once again upped the ante with a new feature for beloved Instagram Stories. How could it get better, you ask? Here's how: You can now add pics over 24 hours old to Instagram Stories, the social media platform announced in a blog post on Tuesday, Nov. 7. The update went live the same day (Nov. 7), so that means you can officially give your stories some... history. So fun! Keep reading for everything we know about Insta's exciting change.
How It Works
Per Instagram's blog post, the time restriction update doesn't affect how you add a photo or video to your story. "Swipe up from the camera to open your camera roll or tap the gallery icon," they wrote. Then, "scroll to choose your photo or video, and tap to select what you want to share." This is when things will start to look a tad different, because your older photos (older than 24 hours old, that is) will automatically come with a time stamp sticker. Instagram explained in their post,
If you choose a photo or video that's more than 24 hours old, you'll automatically see a new sticker that helps you add context for when it was taken. As with all stickers, you can rotate, resize or remove the date sticker from your story before you share.
So, yeah, if you don't want people to know that the photo your uploading is you circa 2009, you can totally drag the stamp to the trash. (I'm weirdly into the idea of the stamp, because it kind of gives photos a retro vibe from back when we used point-and-shoot cameras that had the time stamp option. Cute.)
The update, Instagram noted, is part of Instagram version 22 for iOS and version 18 for Android. And it's one of a few exciting things the platform has added in recent weeks including a dramatic effect called Superzoom and the ability to go live with a friend.
More New Features
Superzoom is a nod to the viral dramatic chipmunk video (you know, the one where camera quickly zooms in on the stunned chipmunk to the tune of daunting music). The feature lets users record short, 3-second clips of anything, automatically zooming in and adding dramatic music. Just a few days before Instagram launched Superzoom on Thursday, Oct. 26, the company debuted its "go live with a friend" concept. It's sort of like having a public video call and has the potential to be both super cool and super creepy, depending on how and when users decide to go live. Using the feature is as simple as tapping "Add" to add someone currently watching your stream, and, as the company said in a press release, "you can remove your guest and add someone else at any time, or they can also choose to exit on their own."
By continuing to innovate, Instagram just keeps giving its users more unique and fun ways to use their app. Connecting with followers has never been easier, and now that our stories aren't limited to photo and videos taken within 24 hours, our Instagram Stories are going to be much more populated, I'm assuming. Who knows, maybe people do want to see a photo of my amazing lunch last week?
Be sure to update your app to take advantage of all the newness Instagram has served up recently. With that, go forth, and upload as many old photos as you want!
Check out the entire Gen Why series and other videos on Facebook and the Bustle app across Apple TV, Roku, and Amazon Fire TV.