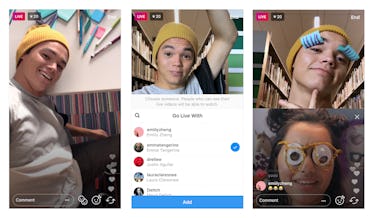 This New Instagram Feature Will Let You Go Live With A Friend & We're So Excited
Instagram
When it comes to social media, there's certainly a lot to "like" — especially when apps role out exciting new features. These platforms are the gateway to 21st century communication, so it's necessary for users to have the option to correspond with one another in real time. Now, you can go live with a friend on Instagram, so get ready for a new spin on "Do it for the 'Gram."
Earlier this year, the app began to test this possibility with a small percentage of its community. Now — much to 'Grammers' delight — the option is available for everyone. While you're scrolling through the latest #OOTD and #dogstagram pics, feel free to take a quick break to catch up with your best friend.
Making a video for your entire following to see can be daunting, but chatting IRL with your BFF takes the weight off the whole "going live" concept. Consider IG's new resource a FaceTime broadcast for your newsfeed...with the help of a partner in crime. "Live video helps you share in an authentic way, but sometimes it can be intimidating when you're on your own," Instagram said in a statement. "It's easy to add a guest while you're broadcasting."
If you're on your lunch break or in between classes, sometimes you need a breather, so why not catch up with your buddies? A real-time convo is sometimes preferable to a text, so give it a whirl. Plus, your followers will probably get a chuckle out of the banter between you and your person.
Here's what you need to know about going live on Instagram... with a friend.
Instagram provided a thorough explanation for the users who are looking to give this bad boy a whirl. According to a press release, the app's team stated,
Simply tap the new icon on the bottom right and tap "Add" to invite anyone who's currently watching. Once they join, you'll see the screen split into two and your friend pop up right below you. Your viewers can still like and comment as they follow along. You can remove your guest and add someone else at any time, or they can also choose to exit on their own. Share your live video to stories when your broadcast has ended, or choose "Discard" and your live video will disappear from the app as usual.
This new feature and the many others we love — stickers for stories, funky filters for your latest photo masterpiece — are just a few reasons to channel your favorite app this season. Instagram Halloween costumes are all rage, so get in on the action. A handful of likes and comments will definitely be in order.
First thing's first, grab some paper and get your DIY game on. Cut out a few boxes and grab adhesive letters (starting at $5 from Target) to recreate an actual "Instagram selfie." Follow along with the video below if you're in need of ideas.
If you're not looking to bring out your inner Martha Stewart, that's totally fine. You can simply find a funky shirt that looks like a carefully crafted Instagram post — one that runs a close race to your favorite photo filter. If you're always looking for bright hues to warm your page, why not try this sunset shirt ($15 from Aliexpress.com) to rock your perfect Halloween look? It's as effortless as gaining the attention of your many followers.
Now that you're feeling inspired not only to find the perfect Halloween look, but to entertain your friends in real time on IG, we can't wait to see the shenanigans you come up with.
Check out the entire Gen Why series and other videos on Facebook and the Bustle app across Apple TV, Roku, and Amazon Fire TV.