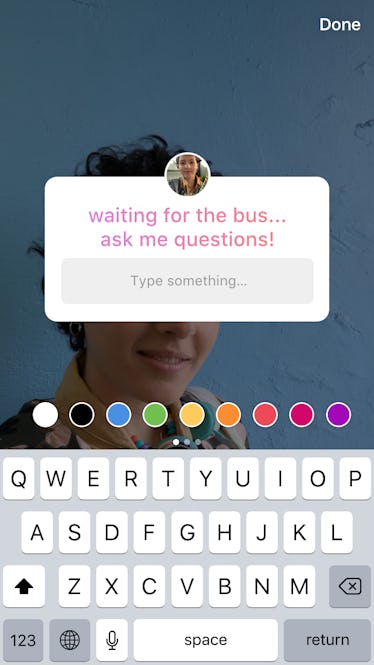 Instagram's New Questions Sticker Is Simple To Find When You're Making A Story
INSTAGRAM
Instagram has been killing it with all the recent updates, and there's no signs of slowing down. The photo-sharing app's latest feature makes it incredibly easy to learn more about your friends by using a questions sticker, and the ultimate conversation starter is available right now. Here's where to find Instagram's questions sticker in the app so you can get to asking away.
As of Tuesday, July 10, Instagram is offering a cool new update with version 52 that's basically the 2018 version of the OG "ask me anything" app, Formspring. Unlike Formspring, however, Instagram's version isn't anonymous, and you can see which one of your followers is responding to your Story query. It's basically a great way to learn more about the people who you are following and create some potential bonds over your shared love of Frenchies, Queer Eye, the World Cup, and more.
Here's where you can find the feature. Head over to your Story and snap a photo or video like you would normally do. Next, add a questions sticker by selecting it from your sticker tray. Then, type out your message and share it. Voila, you've got a question prompt that your followers can tap to reply to as many times as they want, and you'll see all of their responses show up in the list of your Story's viewers.
Let's say that someone asks you where you got your sunglasses and you feel like everyone needs to know this information, because, duh, they're cute AF. You can publicly respond simply by tapping one of the messages you received. If you select the question, you'll be taken to a new Story screen where you can share your response for all of your followers to see. The person's question and your original message will be included for context in the reply Story, though the question poser's identity is kept anonymous and won't show up publicly when you respond.
While Instagram has made its mark as a image-sharing app, I love that it has been recently adding new ways to personally interact with your friends with more than "likes." After rolling out the poll update last fall, the app made it even easier to let your friends know how you really feel by introducing an emoji slider poll in May. Let's be real: Is there a more accurate representation of your emotions than through an emoji scale?
The new questions sticker couldn't come at a better time, because there's really nothing quite like it at the moment. Facebook, which owns Instagram, said goodbye to the popular polling app, tbh, on July 2 after acquiring it less than a year ago. It seemed like everyone was using the positivity-focused app when it first launched (it had 2.5 million daily users just months after its release, per Tech Crunch), enough so that Facebook felt like it needed to buy it. Users (most of whom were high school students and teens) could nominate their classmates for categories, and the recipient would receive their anonymous poll results as a compliment. It was basically like Yik Yak, but without any of the negativity.
While tbh didn't make it to the one year mark, I see Instagram's questions sticker being much more successful for a few different reasons. First, the new feature is pretty seamlessly integrated into the platform's popular Story feature, which already has a pretty large user base. Second, you can ask someone any question you want and continue to have a conversation about it.
One thing's for certain: Instagram's latest update shows that the photo-sharing app is continuing to expand the ways its users can interact and form relationships on the platform. Could Instagram be heading for social media domination in the next couple years? Honestly, I wouldn't rule it out. In the meantime, you'll want to head to your Story and take the new questions sticker for a spin.