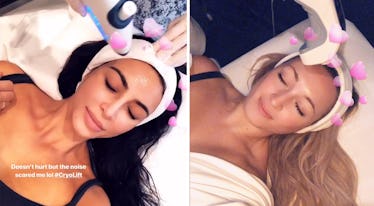 I Tried A Cryofacial Like Kim Kardashian & My Skin Feels Tighter & Brighter Than Ever
Kim Kardashian/Instagram, Bella Gerard
You've been there before: You're scrolling through your Instagram feed when you see your favorite celeb post about their favorite new product — a face serum, vitamins that will make your skin brighter, or a specialty food service. You can't help but want to be like the stars, but are the products worth it? In Elite Daily's new series, I Tried, we put it all to the test. We're trying those products as well as celebrities' health and wellness tips, recipes, and life hacks. We'll do the leg work and tell you what living like your fave star is really like.
On my quest to feel confident in my skin, I've tried almost everything — and now that I can finally say I tried getting a cryofacial like Kim Kardashian has in the past, I feel as though I've literally done it all. I'm on a mission for a healthy complexion overall, so deep-diving into the world of more intense treatments beyond just topical skincare has become a personal mission. Regardless of whether or not you stan Kim Kardashian herself, I'm here to argue that, at the very least, you should be stanning her dedication to skincare. With this in mind, when I saw Kim trying out a cryofacial on her Instagram Story a while back, I knew I had to book one for myself.
Maybe you're laughing at my eagerness to copy Kim, but when it comes to dedication to a healthy complexion and a regular skincare regime, she's my number one muse. Before sleeping in my makeup or skipping out on my nighttime moisturizing routine, I ask myself, "WWKD?" — What Would Kim Do, obvi — and try to follow her lead. Even though she's opened up about a ton of her favorite products in the past, she and lots of other celebs also receive facials and treatments on a regular basis, and that's often what really brings about such dramatic changes in their complexions. While I was definitely too much of a scaredy-cat to try out the vampire facial she posted to social media a while back, the CryoLift Facial she posted on Instagram Stories definitely seemed more my speed.
TBH, when I first saw the above photo, I had no idea what a cryofacial was, much less what it could do. I knew a bit about cryotherapy chambers, though, which utilize cold air to soothe and treat different areas of the body, so I could assume that a cryofacial would use cold to treat and soothe certain areas of one's complexion as well. With Kim's results as my motivation, I decided to give it a whirl.
I received a complimentary CryoLift Facial from the team at NKD NYC, a luxury wellness center run by the incredible general manager, Erin Hamilton. Right away, the vibe at NKD was super welcoming and relaxing. I quickly changed into a robe and removed my makeup for the treatment. I then learned that a cryofacial can actually be performed over makeup, which, to me, seemed like a major plus. Still, I decided to remove mine for the process, and slathered on a serum, moisturizer, and eye cream instead.
Before my facial began, I was invited to try out another awesome treatment offered at NKD: the Infrared LED Light Therapy. This involved lying down and relaxing for 20 minutes in what looks like a Christmas-inspired tanning bed, but is actually filled with little lights emitting infrared, orange, green, and yellow waves that help reduce inflammation and improve cell metabolism throughout the body. For me, it doubled as a chance to relax after running around all day in the heat — and as someone so often focused on my facial skincare, it was nice to give my body a little TLC, too.
After this, though, it was onto the main attraction: the cryofacial. Hamilton performed my treatment and was kind enough to walk me through the whole process, from what exactly was going on to how it would benefit my skin.
"Our cryofacial treatment is a 12-minute treatment that uses liquid nitrogen to create a vapor that causes vasoconstriction in the skin," she tells me. "That causes an instant, rapid tightening effect to the skin: Fine lines appear to be filled in, pores are tightened, and it gives the skin a great glow."
As the facial took place, I sat still while a handheld machine blew what felt like cold air onto my face, with a blue light following the stream of air. It felt incredibly refreshing and relaxing, and much less invasive than the standard facial. Honestly, though, that's all I was able to grasp without Hamilton breaking down exactly what was going on.
"The vapor temperature right now is actually -260°, but it should feel just very refreshing," says Erin of what I was experiencing, shown above. TBH, I would've never known — it honestly just felt like a strong air conditioner. I'm not a fan of cold weather and thrive in the heat, so if you told me I'd be able to feel relaxed under -260° circumstances prior to now, I would've insisted you were dead wrong.
"Right now, the liquid nitrogen is creating a vapor that's causing vasoconstriction in your skin, so it's giving an instant tightening, lifting effect to the skin," Hamilton explains further. "It's tightening up all of your pores, making them smaller, which is so hard to do." In addition to pore-tightening, other benefits of this facial include reducing inflammation and puffiness, calming redness, and helping to build collagen over time, which really piqued my interest.
Not to mention, I could recreate Kim's iconic cryo-selfie in the meantime:
Hamilton confirmed for me that when a patient regularly receives the treatment, it can help build up one's supply of natural collagen in the skin. "The more you do this, the longer the results will stay with you, and the more great effects you'll get to notice," she insisted. It might have only been my first treatment, but with this in mind, I was totally hooked.
Since I had already been familiar with the concept of cryotheraphy chambers for the body, I also made sure to ask Hamilton about the difference between these two treatments and this much more sleek and compact machine.
"It's much different than doing the whole body cryotheraphy experience," she says. "With the newest machine by CRYO Science called the CRYO Penguin, we can go in and treat areas a lot longer, and go in deeper." She adds that it isn't just meant to be used for facials, and that the CRYO Penguin can be used on other areas of the body as well for more targeted treatment.
Unlike some other treatments I've received in the past, this one is also super personalized. "We can increase the pressure, increase the flow of the vapor temperature, and increase or decrease the temperature," says Hamilton. "There's lots of different ways for us to customize to make sure it's a comfortable experience for our clients." You can even ask for extra focus on certain areas of your skin you'd like to hone the treatment in on.
As I deal with acne from time to time, I made a point to ask about how this treatment effects and relates to active breakouts as well. Luckily, Hamilton assures me this treatment would only help, not hurt. "It's very soothing if you have current acne and you have an area that feels uncomfortable and a little bit painful," she tells me. "It'll help the swelling go down a little, help with the redness, and it'll help to just soothe it, and just feel better as well."
On the day of the facial, I actually had one large pimple on the side of my face, and I did notice that it felt painless and slightly less red post-facial. In the past, I've dealt with majorly painful cystic acne, and I feel like this shot of cold would've definitely been soothing at the time, considering how inflamed and painful my skin regularly felt as a result.
As our 12-minute session went on, I felt totally comfortable and at ease. I'm used to painful extractions, burning peels, and aggressive scents when I receive a facial, but the rapid movement of the cold air on my face was hypnotically soothing and even had me a bit sleepy. If you're wondering how I didn't leave with a frost-bitten face, Hamilton informed me that the blue light emitted during the facial would flash red if she kept the airstream blowing in one section for too long, and she would be able to move away from the too-cold area before any harm could be done.
Immediately after my facial, my skin really did feel tight and bright. It was definitely glowy and radiant, and it didn't appear oily. I had a strong desire to throw on some makeup and go out on a date while my skin was still feeling fabulous as ever, but I kept my cool and came home to take selfies for you guys instead.
There's no denying that my after shot is radiant as ever:
"This is an ideal treatment to do if you need fast, quick results — you don't have a lot of time, you have an event in a couple hours that day," says Hamilton of the procedure's quick turnaround. "You can do this right before a big occasion. It's actually great to do right before putting on your makeup, [as] it's gonna give you a nice, even canvas. Your pores are going to be tighter, your makeup application is going to go on so ... smoothly. So doing this last-minute is completely fine and recommended."
Even more, the instant access to the treatment won't break the bank: The 12-minute CryoLift Facial at NKD NYC costs $75. It's a fair price considering the results are instant and noticeable, but not permanent — although over time, the benefits definitely build up.
All in all, the cryofacial is, without a doubt, one of the most unique facials I've ever experienced, and I loved getting to test it out at NKD NYC. Totally painless and non-invasive, with immediate results and potential long-term benefits, it's definitely one I'll be treating myself to again soon.