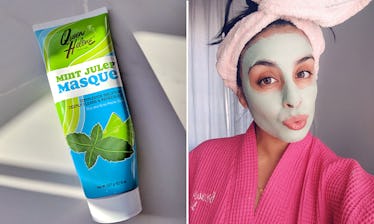 I've Been Obsessed With This $6 Mask Since High School & My Pores Don't Lie
STEPHANIE MONTES
I'm a creature of habit when it comes to food, movies, TV shows (I've kept Friends on repeat every night for years now), and my hair and makeup choices. However, when it comes to skincare, I'm constantly switching things up — I hardly ever finish an entire tube of face wash or jar of moisturizer. The only exception is this one face mask. I've kept it on repeat since high school and I'll never ditch it. Here's my Queen Helene Mint Julep Masque review, because I believe every beauty junkie needs that one ride or die.
When I was in high school (for age purposes, we won't talk specifics), face masks weren't a dime a dozen the way they are these days. Masking wasn't part of the beauty culture the way it is now — you either DIYed a mask once in a blue moon, or you never did it at all. One day, by chance, I stumbled upon a blog post (blogs were just starting to take off around this time too) about this affordable mint mask. The concept of masking was new and I was intrigued, so I picked this one up at Walmart and couldn't wait to try it for myself.
One of the major selling points for me was the price. Seeing as that I was a broke high school kid, $6 was about all I had to spend. I've also always struggled with pore size — I can see massive holes in my nose when I wear makeup and I hate how it looks. The review I read years ago said that it helped with pore size and kept oils under control, so I couldn't put it on my face fast enough.
Once I cracked open the Queen Helene Mint Julep Masque ($6, Walmart), the scent of fresh spearmint is what kept me coming back. It smells like a box of green Altoids (my favorite). Though the smell might be associated with a burning feeling, it doesn't burn or tingle when you apply it to your face. It feels cool, but not in an uncomfortable way.
Queen Helene Mint Julep Masque, $6, Walmart
It's a mud mask, so it's thick. Apply it with your fingers or a brush and don't get too close to your eyes because it can tug at that delicate area. The directions say to let it sit for five to ten minutes, but I usually just wait until it's nice and crackly. Again, I have oily skin, so if your's is dryer, five minutes might be plenty. Mud masks have a reputation for dehydrating skin, so just see what works for you.
Queen Helene Mint Julep Masque, $6, Walmart
Sometimes when my skin is really oily and decongested, you can see the oils rising to the surface of the mask! It looks like tiny grease stains over every pore. I know it's gross, but also so satisfying.
After about 15 to 20 minutes, I wash the mask off with warm water. Unlike other mud masks, this one washes off so easy. I've tried others that have baked onto my skin and require vigorous scrubbing to get it off. This one is so easy to remove and doesn't leave your skin dry and blotchy. Plus, with the spearmint in the mask, my face feels so fresh and clean.
I swear, every time I use it (now I'm wondering why that's not more often), my pores look significantly smaller, my complexion looks brighter, and my skin feels so clean. More pores eventually grow back to their original size again when they get filled with more oils, dead skin, and makeup, but this is why I keep my Mint Julep Mask close.
Like I do after every mud mask (remember, they can sometimes be drying), I apply tons of serum and moisturizer to rehydrate my skin (you can even do a sheet mask after). Now that I've gotten all that buildup out of my pores, my skin drinks up all the hydration. All I'm saying is if you have six bucks to spend, there's no better way to spend it than on refined pores and brighter skin.