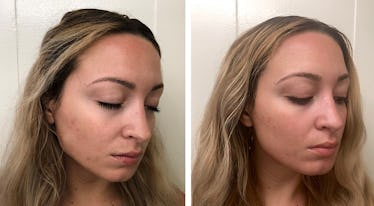 I Tried The Clear + Brilliant Treatment For More Even Skin & Couldn't Be Happier With The Results
Bella Gerard
During my junior year of college, my skin betrayed me out of nowhere: Where there was once the occasional pimple had suddenly sprouted a sea of hard, painful cysts. It was uncomfortable, embarrassing, and literally inhibited my quality of living. Too many times, I'd get fully ready for an event or night out, only to look in the mirror and feel so insecure that I decided to stay home entirely. Two years and lots of topical and internal medications later, my cysts are gone, but the damage they've done to my face remains. As an act of love toward my skin, I decided to try out the Clear + Brilliant treatment to restore it to its pre-acne texture, tone, and radiance.
As someone who watches a ton of beauty gurus on YouTube for skincare tips, it's ironic that I came across the Clear + Brilliant treatment not via a video, but through an ad that played in front of a video. I watched the ad all the way through and felt, admittedly, super jealous of the girl and her newly fab skin. It wasn't until I received the opportunity to try the treatment out myself at Union Square Laser Dermatology that I realized I, too, could have such incredible results.
If you're unfamiliar with this particular treatment, allow me to break it down. The Clear + Brilliant treatment became FDA-approved in 2011, and it utilizes a fractional laser to improve your overall complexion by improving skin's tone and texture and treating signs of aging. The major selling point is that the treatments take as little as 20 minutes, have almost no downtime, and typically show immediate results that continue developing throughout the next week. You can also utilize the treatment as many times as you need to achieve your own desired results, as one session makes a difference but is, of course, not a miracle worker. Because other laser treatments can be painful, invasive, or require a longer recovery period, something so quick, easy, and effective definitely stands out.
The thing about having severe acne is that, by the time it's gone, it's already left its mark — often quite literally. For two years post-acne, my skin was covered in little dots and clusters of pigmentation in areas where particularly gnarly cysts once were, or where I took it upon myself to pop pimples at home. There are many different types of acne scars, and while mine are pigmented but flat, some, like ice-pick scars, feature deeper indents that create an uneven texture to the skin. Since mine are smooth, a hearty layer of full-coverage foundation masks them almost instantly, but some days, a girl wants to love her skin without piling on the product.
To be clear, acne scarring is far from my skin's only issue, especially now that I've spent much time tackling the issue head-on. Every time I visit a dermatologist or facial esthetician, I am secretly hoping that he or she will be utterly impressed by my complexion, only to be repeatedly told that my forehead and chin are congested and that my texture needs some work. Plus, after years of only using anti-acne products in my teens, my skin has dulled and lacks the effortless radiance it might've maintained had I been using hydrating and brightening products within that acne-fighting regime.
Fortunately, though, I've managed to clear up a lot of my less severe acne scars via the power of proper skincare and vitamin C. In particular, the Ole Henriksen Truth Serum ($48, olehenriksen.com) has managed to lighten my acne scars over time with consistent use more than any other product. Even so, there are still a few lingering scars and texture issues that a topical product can't tackle on its own, which is why I felt hopeful that the Clear + Brilliant treatment would seal the deal.
For reference, here's my pre-treatment skin, featuring acne scars on my cheek, a pimple on my lip, and a weird, dark-textured spot on my forehead that showed up last month and decided to never leave:
When I arrived for my treatment at Union Square Laser Dermatology, I was greeted by Dr. Yunyoung Claire Chang, who would be performing the treatment that day. Dr. Chang was incredibly warm and friendly, as well as very prepared to answer all my burning questions about the treatment. She began by analyzing my skin and asking me about my personal concerns and what I'd like to see. She also let me know why she thought Cleat & Brilliant would suit my needs.
"Clear and Brilliant is a resurfacing fractional laser treatment that has less downtime than traditional fractionated lasers like Fraxel, but is more efficacious than facials and other spa treatments," says Dr. Chang. "It is optimal for preventing and treating early signs of aging, including skin texture, fine lines, and uneven pigmentation."
I mean, sounds perfect, right? But before agreeing to try Clear + Brilliant, I asked Dr. Chang if I could, instead, experience a different treatment, the Fraxel laser, as I wanted the most intense laser treatment to reap the most dramatic results. However, she quickly informed me that this type of treatment wouldn't suit my busy schedule, and I appreciated her honesty. According to her, a lot of patients — especially New Yorkers! — prefer Clear + Brilliant because it requires no downtime, and as a busy gal myself, I understood the appeal and was ready to jump right in.
First, Dr. Chang started by injecting a steroid shot into a painful cyst on my lip. (I rarely get them anymore, but of course, on this day, I did!) She then moved on to step two of the treatment. This consisted of a few quick blasts from the Vbeam laser to improve some redness on my cheeks and below my nose. Finally, it was time to put the Clear + Brilliant treatment to the test firsthand.
After numbing my face with some numbing cream, we were ready to begin. As Dr. Chang moved the Clear + Brilliant laser across my skin in quick, short passes, I could definitely feel a slight burn, but nothing major. When one side was completed, ice was applied to my skin to soothe the hot feeling, and in seconds, it felt like nothing had happened at all. The only area I'd classify as being even remotely "painful" would be the super sensitive, thin skin right underneath my eyes, which really felt the burn — otherwise, I experienced a little prickly heat feeling, and nothing else. As promised, the whole process took no more than the 20 minutes, and then, I was on my way home, my face hot and red, but all together, perfectly fine.
Here's my skin immediately after the treatment, a little red but already significantly more even in tone and texture:
Right away, I could see that my darkest acne scars had lightened up. They definitely weren't gone, but Dr. Chang told me I'd likely require between one and three trips for such results. If I'm honest, though, I was surprised just one had made even this much of a difference. My overall skin tone and texture appeared way more even as well — all in all, everything just looked more balanced.
Dr. Chang informed me prior to the treatment that, "for about one week post-procedure," I may notice a rougher "sand-papery type" texture to my skin, but this is completely normal following the treatment, and my skin would still appear visibly plump and hydrated. "Patients typically notice a nice "glow" and younger, healthier looking skin," she says.
She was totally right: I was able to apply makeup right away with no issues and received multiple compliments on how great my skin looked. However, she was also correct in that every time I touched my face, it felt like a literal piece of sand paper. To manage this, Dr. Chang recommended I use no harsh products for a week and focus, instead, on sunscreens, moisturizers, and vitamin C. Since I already had my trusty Ole Henriksen Truth Serum ($48, olehenriksen.com), I only had to add a few more products to my regime. For sunscreen, I turned to the Supergoop! Sun-Defying Sunscreen Oil SPF 50 ($34, neimanmarcus.com), so I could reapply my SPF throughout the day with just a quick spritz that wouldn't mess up my makeup.
For intense hydration, I used hydrating masks as leave-on moisturizers, rotating between the Summer Fridays Jet Lag Mask ($48, summerfridays.com), the La Roche-Posay HydraPhase Intense Mask ($20, laroche-posayusa.us), and the Innisfree Hydrating Sleeping Mask with Green Tea ($19, us.innisfree.com). If you suffer from dry skin or just want an extra boost of hydrated, plump skin goodness, I can't recommend these products enough.
After one week, my dryness had dissipated, and I was left with slightly lighter acne scars, no breakouts, and the skin texture of my dreams.
Here's my skin one week post-procedure. Peep the much more even tone and how much better that dark/rough patch on my forehead looks:
Prior to the treatment, I was sure diminishing my acne scars was my main focus, but after seeing how much the treatment helped balance my skin tone and texture overall, I realized my scars mattered way less to me. Fixing the patchy spot on my forehead, though, was a major added bonus; I'd been so focused on my cheeks, I hadn't expected the treatment to make such a different up top.
Please ignore my greasy roots and focus on the fact that my forehead looks So. Much. Better. in the second photo. Goodbye, redness and texture:
"For Bella, in particular, who had great skin already, I was looking to even out her skin complexion from the acne blemishes and post-inflammatory hyperpigmentation," says Dr. Chang, who was sweet enough to pretend I already had great skin. (Aw, shucks!)
Remember that thing I said earlier about my wild dream where estheticians compliment my skin? A week after my Clear + Brilliant treatment, I received a facial, and I kid you not, the esthetician couldn't stop complimenting my skin texture. That has never happened to me before, and I never thought it would. The visible results had already convinced me the treatment was a success, but getting compliments from a skin expert really sealed the deal.
Me, reacting to compliments on my newly fab complexion:
Have I convinced you to try out the treatment for yourself yet? Personally, I hope to go back for a second session to see even more improvements. If you want to go with me, you totally can, as Dr. Chang says almost anyone can benefit.
"Clear + Brilliant is safe and effective in all skin types. It is great for preventing the signs of aging and is, thus, great for many of my younger patients who want to prevent or delay fine lines and uneven texture," she insists. "It is also a good maintenance treatment for patients of any age who have already undergone more aggressive procedures."
No treatment is perfect, of course, and Dr. Chang does note that, while Clear + Brilliant can make a major difference when it comes to acne blemishing and scars, it "will likely not be as effective for deeper acne scars," which can be confirmed by a few dark spots that still remain in my "After" photo.
"The laser can uncommonly cause a flare of acne, which is usually short-lived and responsive to typical acne treatments," Dr. Chang continues. "I, ideally, prefer my patients to be on a good acne treatment regimen with good control of their acne prior to this laser treatment." If you have a history of cold sores, the laser might also cause them to pop up, but Dr. Chang says she utilizes "prophylactic anti-viral medications during the procedure to prevent breakouts."
Personally, I'm thrilled with my results and eager to go back for round two of my Clear + Brilliant treatment. I've even been embracing my newly even complexion and rocking less foundation, which is a major step for anyone who knows me. (Your girl loves a cakey face.) You should always love the skin you're in, but if you're someone like me who's really struggled to be comfortable with her acne scars, then taking the steps to properly treat them is definitely something to consider.